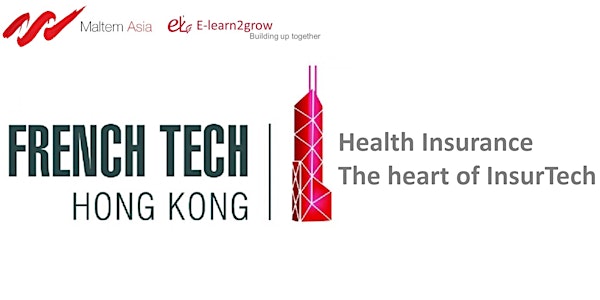 French Tech HK: Health Insurance The Heart Of InsurTech
When and where
Location
THE HUB, 15/F Vertical Sqare, 28 Heung Yip Road Wong Chuk Hang Hong Kong Hong Kong
Description
Language of the conference is English
Every two months, French Tech Hong Kong, Maltem Asia and E-learn2grow brings you the latest trends and news of the InsurTech and Fintech scenes in Hong Kong. Last events, held in January and March, were dedicated to the Blockchain and Artificial Intelligence, main "real-live applications" and key challenges: Fintech Outlook and Blockchain major trends & Artificial Intelligence and related domains.
For this coming breakfast-conference, the opening will be done by Thierry Fabing : Chief Digital & Data Officer, AXA Asia. Then Karen Farzam from WHub will present the main Hong Kong Start Up trends and ecosystem. Louis Charpigny will provide a great demo of Alex, you Wellness Personal Coaching Xtra by AXA.
Then, join us for an exciting panel discussion on InsurTech and HealthcareTech and how it is transforming insurance companies. Best experts will share their insights and concrete applications: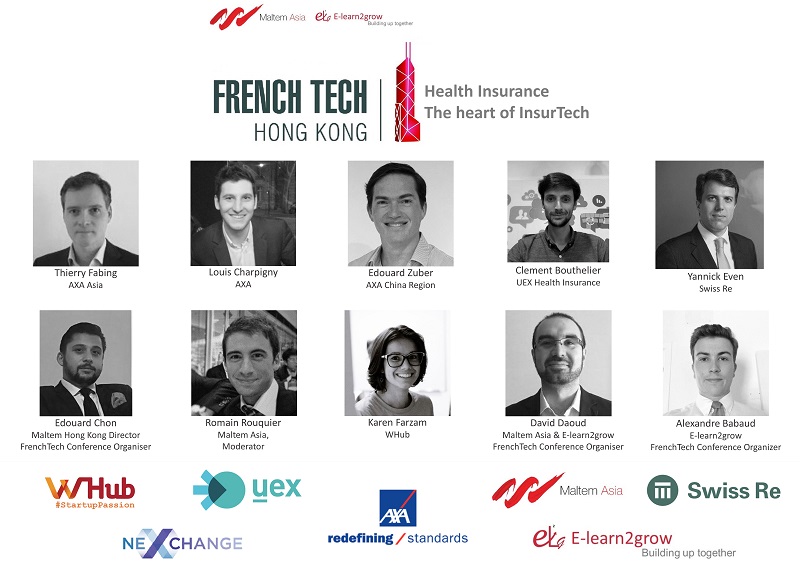 InsurTech: Health Insurance, the heart of InsurTech?
Now, for this event, our speakers will take some time to go through InsurTech and HealthcareTech and other key related domains. Everybody talks about it but what is that? Our speakers will share with you their views on the key use cases and trends on InsurTech, the value chain and its major challenges today and tomorrow. There is lot of buzz around these topics: What is that? Do we need It? What is the real added-value? What are the major risks, what are the limits in terms of ethics?
The speakers will explain what are InsurTech and HealthcareTech domains, the Differences and complementarities. We will go thru the new products and services, business models and enablers. What customer value, and how the Tech helps to Increase relationship between customer and insurance company.
Fintech for Financial Technologies
This is the word you are listening, reading and talking about. But what is that about? The Fintech chapter of the French Tech was inaugurated in January 2017. In 2017, Maltem Asia and Elearn2grow, La French Tech Hong Kong, are organizing series of events covering main InsurTech & FinTech areas from blockchain, Artificial Intelligence, Chatbots, Mobile payments, IoT and many other. We aim to bring to you the information allowing you to have a better understanding of the Fintech & InsurTech ecosystems.
Agenda of our breakfast-conference (could be modified without notice)
---
When and Where?
Tuesday May 23rd 2017, From 8.30am to 10am at AXA Office
THE HUB 15/F, Vertical Square
Wong Chuk Hang MTR Station: 2 stops from Admiralty – (7 minutes)
Vertical Sq, 28 Heung Yip Road, Wong Chuk Hang, Hong Kong

---
About AXA
This event is kindly hosted by AXA, 'The most active insurance innovation leaders globally'. AXA Group is a leading global insurance company. AXA is the #1 global insurance brand for the 8th consecutive year (Interbrand) and has the privilege to serve 107 million customers in 64 countries.
AXA is one of the most active insurance innovation leaders globally. They built a robust innovation ecosystem to connect with StartUps and Insurtech community to redefine insurance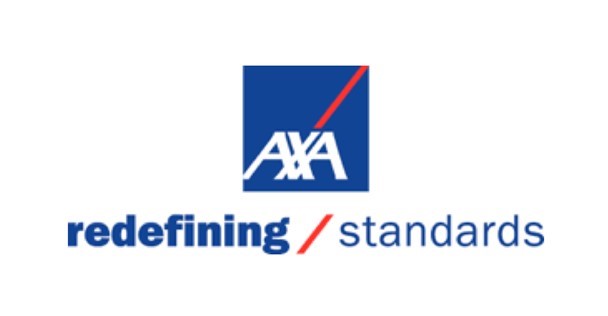 ---
About the French Tech Hong Kong
The French Tech Hong Kong is creating the bridge between Hong Kong and the French Tech Scene, in both ways.
This bridge is helping you to expand your Business, meet the Community and our Ambassadors to discover the French Tech Ecosystem.
---
About Maltem Consulting Group

For 15 years now we have been supporting startups and big groups to achieve their goals. Maltem is THE company dedicated to innovation and digital transformation projects. We use latest ways of recruitment through Agile mode, 100% connected and 100% human.
What about figures? Maltem is 5 countries: France, Singapore, Hong Kong, Luxembourg and Belgium, with 750 collaborators and 5 offers: web studio, lab and incubation, innovative concepts, Bank & Insurance and Data Management.
Maltem is also a CRS (Corporate social responsibility) approach and the Aldinie Foundation which supports many humanitarian projects. Joining us is not only for a new job but also become a Maltemian to live a human adventure, fascinating and fun.
Above all, we are looking for personalities, curious, passionate and ambitious people! Our specialties Big Data, Bank & Insurance, Innovative concepts, Web studio, and Lab and incubation
---
About E-learn2grow

We're E-learn2grow. Individuals and companies must constantly upgrade their knowledge and skills to keep up with a changing environment. We started building E-learn2grow to allow you, whoever you are, to access the knowledge that you need, to upgrade yourself. This is a precious thing that is frequently not shared widely.
E-learn2grow is creating the ecosystem and the content to allow learners to interact with an e-learning environment from anywhere, and at any time. We support our clients, with eLearning creation (Instructional Design and Developments) or package content, and Corporate Trainings.
---
This event was prepared thanks to the involvement of our teams from AXA, Maltem Asia and eLearn2grow. Innovation and creativity are at the heart of our approach to provide you a high level of value. We hope you will enjoy this event.