Event Information
Location
The Hive Sheung Wan
3/F, 33-35 Hillier Street
Sheung Wan, Hong Kong Island
Hong Kong
Description
We would like to proudly announce the program for the 1905 International Human Rights Film Festival in Hong Kong from May 17th - 27th. The 1905 Human Rights Film Festival (HRFF) aims to raise awareness about human rights violations through film screenings and discussions with filmmakers and activists.
Tickling Giants
USA | 2016 | 115' | Documentary Film
Director : Sarah Taksler

Bassem Youssef is an Egyptian whose life was critically affected by the Arab Spring‭. ‬His profession changed drastically‭: ‬the surgeon became the moderator of a satirical talk show‭, ‬thus fulfilling a dream‭. ‬This time-lapse documentary portrays his journey‭, ‬from initial YouTube endeavors to his successful and professional show‭, ‬which had an average TV audience of up to 30‭ ‬million in the Arab world‭. ‬However‭, ‬after escalating threats‭, ‬even from the political sphere‭, ‬this Egyptian showman had to end his program and go into exile‭. ‬The story of Youssef's courageous show reflects the political turbulence in Egypt after the fall of President‭ ‬Mubarak and the so-far futile efforts of the local society to attain true freedom‭.
Awards:
Wonder Award‭, ‬Technicolor
Best Documentary‭, ‬Cinema for Peace
Best Documentary‭, ‬One World International Human Rights Watch Documentary Film Festival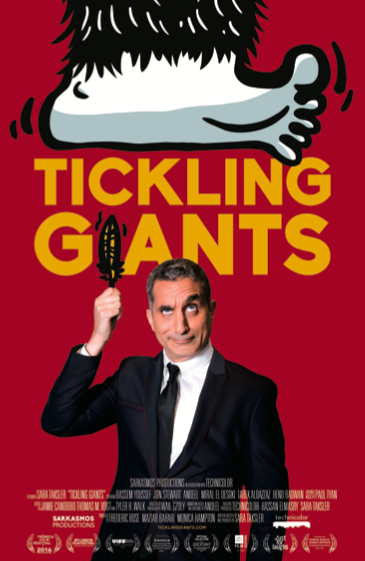 1905國際人權電影節將於本年5月17日至27日在香港舉辦。 1905人權電影節旨在通過電影放映和與電影製片人對話活動來討論以至提高大眾對人權的認識。我們組織認為電影是可以把人權議題生動地向大眾傳遞的有力工具。 今年,我們的電影節為大家搜羅不同類型的故事片,紀錄片和短片,香港觀眾們不能錯過。

胳肢巨人
美國 | 2016 | 115' | 紀錄片
導演:Sarah Taksler
巴瑟姆·尤素夫是埃及人,阿拉伯之春對他的人生影響巨大,他的職業也因此而完全改變了:從外科醫生成為了諷刺脫口秀節目的主持人,由此成就了另一种夢想。這部影片記錄下他的人生進程,從最初在YouTube上的努力,到成功、專業的節目,節目在阿拉伯世界的平均觀眾數超過3千萬。然而,在不斷升級的威脅和政治迫害後,這位埃及表演者不得不提早結束他的計畫,流亡國外。尤瑟夫的勇敢表演真實地反映了在穆巴拉克總統下台後埃及社會的政局動盪,也反映了當地社會為了爭取自由而付出的努力。

Please find others screening programme here:
http://1905HKHRFF.eventbrite.com


In collaboration with The Hive Sheung Wan


Date and time
Location
The Hive Sheung Wan
3/F, 33-35 Hillier Street
Sheung Wan, Hong Kong Island
Hong Kong