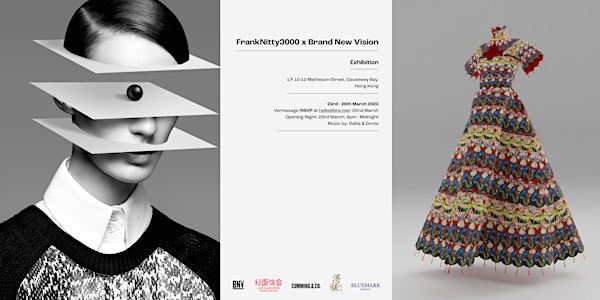 FrankNitty3000 x Brand New Vision Exhibition
FrankNitty3000, and Brand New Vision join forces around to showcase how the freshest of art, culture, fashion and technology meet on-screen
By BNV (Brand New Vision)
Date and time
Thu, 23 Mar 2023 18:00 - Sun, 26 Mar 2023 23:30 HKT
Location
10-12 Matheson St 10-12 Matheson Street Causeway Bay Hong Kong, HKI Hong Kong
About this event
3 days 5 hours

Mobile eTicket
FrankNitty3000 x Brand New Vision - Exhibition - 23-26 April 2023, Hong Kong
Artist, FrankNitty3000, and fashion studio, Brand New Vision, have joined forces around Art Basel Hong Kong to showcase how the freshest of art, culture, fashion and technology meet on-screen.
Known for his vivid, surreal, and often comical animations, FrankNitty3000 has over the years caught the eye and interest of many of the world's leading top fashion designers and advertisers. Inspired by, but also a plunderer of the ubiquitous beautiful imagery that saturates our collective subconscious, Nitty's deconstructivist approach explodes and reimagines this familiar tableau in a contorted and anarchic manner. The irony of being admired by those whose work he dismantles, is clearly not lost on the artist, and it is in this spirit that this collaboration with Brand New Vision has been staged.
Pioneers of fashion in the digital realm, Brand New Vision sit at the forefront of virtual product creation, and this exhibition presents several of the studio's latest works, including excerpts from the Council of Fashion Designers of America recent 60th Anniversary collection. Working with some of that industry's most notable names, including Tommy Hilfiger, Coach, Diane Von Furstenberg, Michael Kors, Wes Gordon for Carolina Herrera and Vivienne Tam, each digital-wearable was auctioned for charity, at price tags of between US $15,000 and $25,000. These experiential one-of-a-kind digital collectibles, chart each brand's journey through past, present, and future; art, culture, and design colliding, imbuing each item with unique experiences like designer meet & greets, front row tickets to fashion shows, backstage passes and personalised shopping experiences as well as unique physical garments.
Alongside these unique pieces, Brand New Vision are showcasing the one-of-a-kind phygital necklace from the MAD Project. Physical, present, wearable and made by Bluemark Diamonds, this 24K pure gold piece, valued at over US$10,000, is engraved with a unique set of markings. Its digital sister piece and AR filter reveal the role the necklace played in Léticia Belliccini's film, MAD, and can be viewed firsthand by visitors to the exhibition.
The exhibition will also showcase the work of radarboy3000 with his latest NFTs in partnership with bbase Design Group
About Frank Nitty
Starting his dynamic career in The Netherlands Frank graduated from the esteemed Design Academy Eindhoven in the early 2000's, an institute notorious for producing some of the world's best design talent. He is a multi faceted artist with a career spanning over ten years and three continents which saw him work as an art director in fashion, creative director in the advertising industry and as a music video director. Since the 2010's Frank has been a pioneer investigating the boundaries between digital art and otherwise commercial purpose imagery under the moniker FrankNitty3000. As a self proclaimed Guerrilla Deconstructivist he has collaborated with worldwide fashion, cosmetics and luxury brands such as Gucci, Burberry, Louboutin and Dior. Using a mix of "traditional" 2D collage techniques and motion graphics Frank creates manipulations of found and photographed images that blur the lines between digital art and advertising. His work has been exhibited at the Gucci Garden in Florence, galleries in Amsterdam, London, Beijing and Tokyo and published in magazines such as Wired, Vogue, Schön! and Numéro.
Instagram:@franknitty3000
About BNV
Brand New Vision Ltd (BNV) is where fashion meets the Metaverse. Headquartered in Hong Kong, the company launched bnv.me in 2021, quickly becoming the premium platform for fashion NFT sales and gateway to the Metaverse for fashion brands and designers. BNV redefines and elevates Web3 self-expression by transforming NFT wearables into a medium of visual identity, transmedia entertainment experiences, and financial rewards. Being a fashion company first and foremost, BNV respects the heritage and DNA of its partners while helping them navigate the complexities and technical requirements of Web3 and Metaverse integration. A team of leading industry insiders and top investors including Animoca Brands drive BNV as it builds a community of fashion visionaries including brands, designers, creatives, and consumers ready to shape a future-proof fashion ecosystem in the Metaverse.
Website: bnv.me Instagram: @bnv.me
About MAD
MAD is the latest film by film director, Léticia Belliccini. BNV is entering the world of Cinema with the exclusive partnership with MAD, screening the film in the metaverse and creating digital-wearables around the project that will hold unique utilities. The necklace is the central object of the film, it appears in the 3rd act but is present since the beginning without being visible on the screen. Unique nuclear code is engraved on each link on the necklace.
Website: www.bnv.me/campaigns/bnvfilmclub-mad
About Bluemark Diamonds Ltd
Bluemark Diamonds Ltd is a Diamonds, Gemstones & Jewellery firm headquartered in Hong Kong, with over 30-years of international expertise sourcing and creating unique luxury.
Instagram: @bluemarkdiamonds
Supporting Partners
Website: leegardensassociation.hk Instagram: @leegardensassociation
Website: : www.puyi.com Instagram: @puyioptical