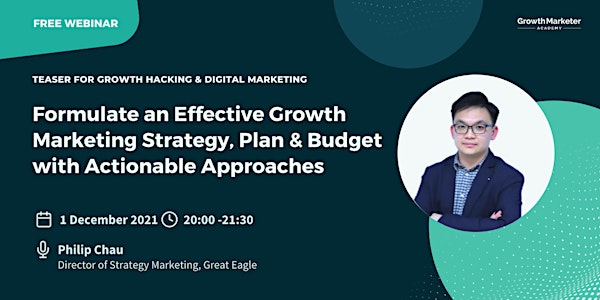 Formulate an Effective Growth Marketing Strategy, Plan & Budget with Action
Learn practical tips on building out an actionable plan and budget based on a solid growth marketing strategic foundation
About this event
*This webinar will be held in Cantonese
*This webinar will be held on Big Marker. Participants can click on the following link to complete registration before the event: https://www.growthmarketer.academy/webinar/growth-marketing-strategy-plan-budget
About Speaker - Philip Chou:
Philip has more than 15 years of experience in digital innovation, performance marketing, and advanced analytics and has worked in international corporate, agency and startup environments. He currently heads up the group marketing function at Great Eagle Holdings, leading the strategy in marketing innovation, digital marketing, and MarTech across a range of business units such as hotels, residential properties, co-working spaces, shopping malls and more. Previously he was a founding member of the InsurTech business Blue.
Who Is It For?
Current or future marketing managers that need to start managing budget
Senior marketing directors and department heads need to manage an overall team resource and plan
Startup owners who need to plan and execute their marketing strategies
What Will I learn?
Learn the strategic framework template that you can actually utilize in your work
Gain the insights and tips that help you in marketing and budget planning
Learn the dos and donts to feasibly budget and plan
About Growth Marketer Academy:
Growth Marketer Academy is the 1st growth marketing school in Asia. We have footprints in 5 cities (Hong Kong, Taiwan, Manila, Singapore, Jakarta) and equipped over 1000+ marketers with actionable tactics.
Language: English
Official Page: https://www.growthmarketer.academy/
Join Webinar for Free: https://www.growthmarketer.academy/webinar/growth-marketing-strategy-plan-budget