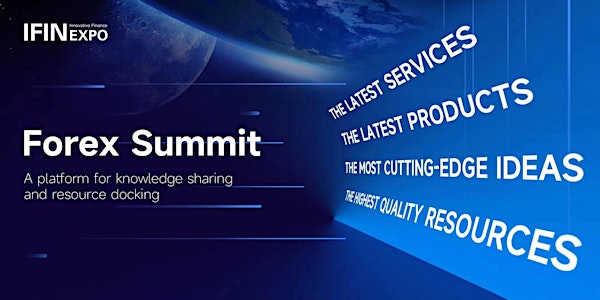 Forex Summit Lagos 2023
A grand gathering of forex industry which involves forex brokers, iquidity, CRM , fintech companies such as blockchain, crypto, payments...
When and where
Location
Lagos Oriental Hotel 3 Lekki - Epe Expy, Victoria Island Lagos, 106104 Nigeria
About this event
2023 Forex Summit Lagos is an important part of the Innovative Finance Expo which is one of the largest and most important events in the Innovative Finance industry. This summit not only brings together top professionals and global leaders in the Forex industry, but also people who have just entered the fields of blockchain, crypto, DeFi, mining, payment system, smart contract and financial investment. Lagos was selected as the venue of this summit because of its inclusive and open policy environment. This is a potential market that is worth developing and exploring for foreign exchange practitioners. Forex Experts and investors around the world will discuss the hottest topics in the forex world with us under the same roof and push the industry to a new height.
The world's largest forex investment Summit
More than 100 forex enterprises participated in the summit, involving Forex brokers,Liquidity companies,CRM companies, fintech companies such as blockchain, crypto, DeFi, mining, payment system, smart contract and financial technology solutions.
Top business network
As the largest and most important activities in the forex industry, it is also a perfect personal summit and business development space. Each participant will have the opportunity to participate in this summit, including booth, lounge, conference and interactive experience area. Each participant will have the opportunity to have in-depth exchanges with top masters and innovators in the field of forex and expand high-end network resources.
Global communication and influence
This summit cooperates with more than 60 top financial media and media institutions in the forex industry to realize exhibition publicity and information dissemination worldwide and improve the brand influence of exhibitors.
Some topics:
Under the pressure of inflation, how to find a better way to invest?
What support is most needed at this stage of the development of Malaysia's forex industry?
Impact of global energy crisis on exchange rate
How can the marketing methods and channels of forex brokers better serve investors?
How to combine the advantages of local customer service in the forex market?
Under the geopolitical conflict crisis, the future trend of gold, crude oil and bulk commodity trading.
The importance of strengthening forex supervision and the safety of investors' funds.
Theme: Current development and future of global forex market
Transformation and upgrading of intelligent application in forex trading
Forex investors always have loopholes in trading. Do you think your trading system is three-dimensional?
Problems and challenges encountered by individual and institutional investors in forex transactions
Future proof solutions to protect our most valuable assets
Compare the advantages and disadvantages of forex investment and crypto investment
Application of forex documentary system in trading
Theme: Give play to the important role of forex investment in asset allocation
【Contact us】
Twinkle: Business Development Manager at FiFin
Mobile: +86 18621737740
WhatsApp/Telegram: +86 18621737740
Skype: twinkle01131206@163.com
WeChat: 18621737740
Email:twinkle@ifinexpo.com; oscar@ifinexpo.com