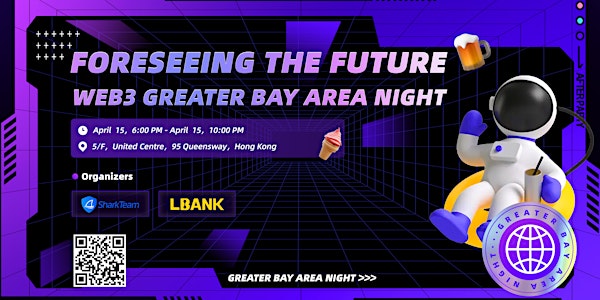 Foreseeing the future: Web3 The Night Of Greater Bay Area
Join us for an unforgettable evening and enjoy "The Web3 Greater Bay Area Night" party with endless conversations.
Date and time
Saturday, April 15 · 6 - 10pm HKT
Location
United Centre #5/F 95 Queensway Admiralty, HKI Hong Kong
About this event
SharkTeam and Lbank are proud to announce their upcoming event, "Web3 Greater Bay Area Night." This afterparty will be closely related to cryptocurrency investment and security, and will feature networking opportunities with project leaders and partners in attendance.
The Web3 Greater Bay Area Night will be an exclusive event for investors, blockchain enthusiasts, and entrepreneurs looking to connect and expand their network. The event will take place in the Greater Bay Area, a dynamic economic region located in southern China, known for its thriving tech industry, blockchain projects, and startup ecosystem.
The afterparty will offer attendees a unique opportunity to meet and connect with leading figures in the blockchain and cryptocurrency space. They will have the chance to learn more about the latest trends, exchange ideas, and build valuable relationships with project leaders, investors, and industry insiders.
In addition to networking opportunities, attendees will also have the chance to learn about the latest developments in blockchain and cryptocurrency security. SharkTeam, a leading cybersecurity company, will provide valuable insights into how to keep digital assets safe in an increasingly complex and evolving threat landscape.
Furthermore, Lbank, a premier cryptocurrency exchange, will offer attendees valuable insights into cryptocurrency investment opportunities and the latest trends in the market. They will provide valuable guidance on how to make informed investment decisions and navigate the dynamic cryptocurrency landscape.
The Web3 Greater Bay Area Night will be a lively and dynamic event, featuring a range of activities, including panel discussions, keynote speeches, and networking sessions. Attendees will also have the chance to win valuable prizes and giveaways, including cryptocurrency and exclusive merchandise.
SharkTeam's vision is to fully secure the Web3 world. The team consists of experienced security professionals and senior researchers worldwide, proficient in the underlying theory of blockchain and smart contracts, providing services including smart contract auditing, on-chain analysis, emergency response, etc. We have established long-term partnerships with key players in various areas of the blockchain ecosystem, such as Polkadot, Moonbeam, polygon, OKC, Huobi Global, imToken, ChainIDE, etc
LBank, a leading global crypto trading exchange invites top startup teams to LBank family by providing targeted capital and resources. Backed by LBank, a leading global digital asset exchange, LBank Labs strives to invest and incubate top teams with clear vision, strong technical aptitude and solid execution capabilities primarily in the crypto space. LBank Labs offers support and guidance throughout the capital life cycle from initial investment to maturity. Portfolio companies get instant access to an international network of resources, including software developers, marketing experts, crypto traders and community influencers. In addition to our venture capital arm, we have a separate hedge fund team.