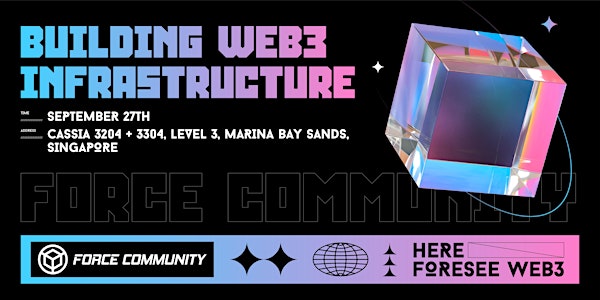 Force Community - Building Web3 Infrastructure
We would like to invite you to attend a half-day of learning, collaborating, and networking with Storage Providers, Infrastructure Builders
When and where
Location
Cassia 3204 + 3304, Level 3, Marina Bay Sands Singapore 10 Bayfront Avenue Singapore, 018956 Singapore
About this event
We would like to invite you to attend a half-day of learning, collaborating, and networking with Storage Providers, Infrastructure Builders, Ecosystem Partners, and other participants in the Web3 Ecosystem.
About this event
The Building Web3 Infrastructure event, which will be held on September 27th. Join us for a meetup in Singapore about how we will build web3 infrastructure for the Filecoin ecosystem and the whole web3 world.
The Web3 infrastructure is divided into multiple sections, from the on-chain ecosystem, the off-chain environment that supports the development and growth of the on-chain ecosystem, middleware that connects on-chain ecosystems, and finally to other services that live across the above sections.
We have invited amazing speakers from different web3 infrastructure construction fields to participate in the event, share their insights, and be a part of an exciting summit in an incredible city that reflects how web3 infrastructure has flourished over the last few years.
In the meantime, web3 infrastructure service providers are ensuring the fundamental building blocks of Web3 are set and that networks are prepared for the growing user base.
An entire industry has formed around blockchain technology, which is ushering in the next generation of the internet.
Join us Build Web3 Infrastructure which will empower the Web3 World!​
Sessions will cover:
Web3 storage solutions
Role and Importance of Web3 DevOps
Implementations and Programs for Filecoin Storage Providers
Latest progress of Filecoin Plus and Retrieval market ​
Current use cases of Web3 Infrastructure
...
The full schedule can be found here.