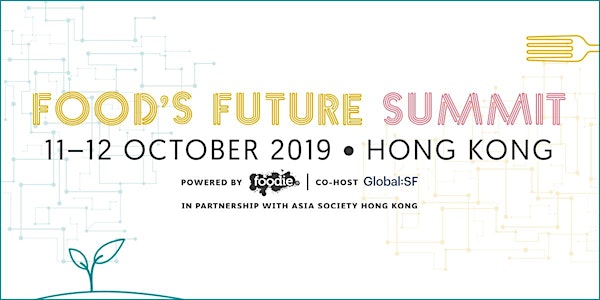 Food's Future Summit 2019
When and where
Location
Asia Society Hong Kong Center 9 Justice Drive Hong Kong Island Hong Kong
Description
Our award-winning Food's Future Summit is back for its third year. Over two days of talks, panels, discussions, showcases and meals, the Food's Future Summit 2019 will gather change-makers, experts and conscious consumers to delve into key innovations, trends, and issues in the culinary and food technology ecosystems.
What will we be eating in the future?
How will our dining experience change?
How do we create a sustainable food cycle?
These are the key questions we seek to ask and address at the Food's Future Summit.
The Summit has also included an international feature component since 2018, to learn from and be inspired by global efforts in this space. In 2019, we're shining the spotlight on the San Francisco Bay Area, home to some of the world's most innovative and influential companies and not to mention a dynamic and delicious culinary scene.
Meet our 2019 co-host GlobalSF - a not-for-profit organisation dedicated to paving the way for international companies to grow in the City of San Francisco while helping locally-based companies expand into global markets. GlobalSF is lining up a host of exciting speakers, chefs and participants from the Bay Area - expect valuable insights and inspiration from some of the pioneers leading the way into a sustainable food's future.
The goal of the Summit remains the same—we want to inspire and initiate change within the world of food: to recognise future-forward businesses; champion individuals behind critical causes; and empower consumers to make better-informed decisions about what they eat.
Watch last year's Summit video (https://www.foods-future.com/2018-highlights).
Come join us at this highly acclaimed and exciting event! For a taste of what's to come, see our agenda below (subject to updates and changes. For the latest, please refer to www.foodsfuture.com):