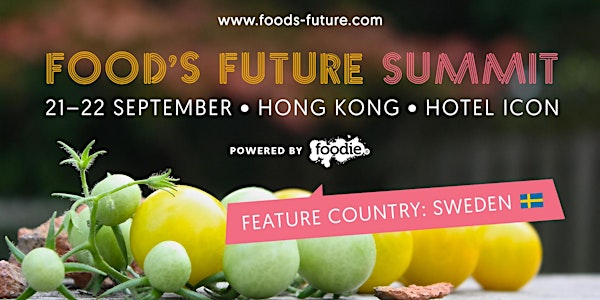 Food's Future Summit 2018
When and where
Location
Hotel ICON 17 Science Museum Road Kowloon Hong Kong
Description
Following from the success of our inaugural Food's Future Summit 2017, we are back to explore more of the pertinent issues, challenges and advances surrounding the perennial question:


What does our Food's Future hold?


A finalist for The Spark Awards - Best Event, this year's Summit features an expanded, two-day programme that delves even more comprehensively into current and critical topics. Day 1 (Friday, 21 September), will be packed with keynote speeches and panel discussions from key industry insiders, while Day 2 (Saturday, 22 September) will feature interactive workshops and talks. Both days will feature a Foodie Marketplace, where new, futuristic and innovative products will be on display and even for sale!

For the first time ever, we will also introduce a Feature Country to explore the expertise and experiences from international leaders. For 2018, we have partnered with the Consulate General of Sweden to feature Sweden's innovative policies, practices and products which offer progressive solutions to a sustainable food's future.
DAY#1 - Friday, 21 September (Keynote speeches, panel discussions, breakout tracks and Foodie Marketplace):
Including but not limited to:


*KEYNOTE SPEECH BY JOSH TETRICK

Josh Tetrick, co-founder and CEO of JUST

, a company that made eggless scrambled egg and mayo a dream come true for vegans (and non-vegans too we might add). During his opening Keynote, Josh will explore the new food revolution and what it will look like to start over in food.




*DINING IN 2030

Top restauranteurs in Hong Kong and Greater China, on how they've remained competitive over the years and how they are evolving to keep ahead and stay relevant.


*HOW SWEDEN IS DESIGNING THE FOOD'S FUTURE

Movers and shakers from this progressive nation in Scandinavia sharing lessons, examples and policies showing how Sweden is helping design our planet's future of food.


*DINING IN INNOVATION

How technology and new science is shaping our dining experience — too much science fiction or way of the future?


BLOCKCHAIN IN OUR FOODCHAIN

What is blockchain? And is it the solution to the problems within the food industry?
*IS ALTERNATIVE PROTEIN STILL "ALTERNATIVE"?

How meat alternatives are becoming mainstream.


*GEN Z: WHAT DO THEY EAT

What does Generation Z eat? Is the image more important than the actual food? What are the factors that drive Gen Z'ers to queue at length and travel for hours in pursuit of 'grammable grub?
DAY#2 - Saturday, 22 September (Workshops and Foodie Marketplace):
Engage in interactive workshop experiences to explore a range of interesting topics that are critical to our food's future - including food security, food safety, circular economy practices, and alternative protein.
Additionally, take the chance to browse and shop at our marketplace!
Check out the full agenda here