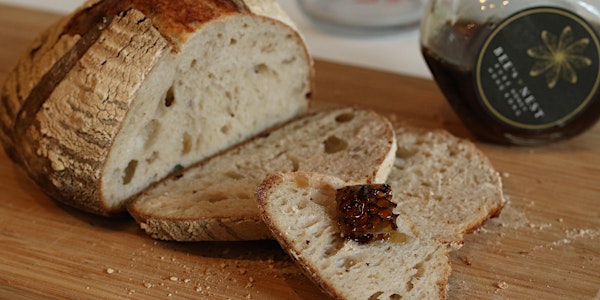 Foodlink's very first Honeycomb Sourdough Baking Course by Sesame Kitchen
When and where
Location
Sesame Kitchen 21/F, Yiuga Factory Building, No.62 Victoria Road, Hong Kong Hong Kong Hong Kong
Refund Policy
Contact the organiser to request a refund.
Description
Good news!
We are hosting Sourdough Bread Making classes using local Hong Kong Honey generously donated by Berrytime Asia provided by Foodlink Foundation, and will be baking these with honeycomb inside, under the guidance of master trainer Shima Shimizu, Chef and Instructor at Sesame Kitchen! Foodink's very own Nutritionist Michelle Lau (Certified Nutritionist (MSc.) & Nutrition Educator) will be present to offer a short introduction to nutrition from honey and sourdough bread, and answer any of your questions on nutrition in general! Looking forward to seeing you in class! Book now, while spots last! Proceeds benefit Foodlink Foundation.
Class dates
*Choose one date out of the above
Duration 3 hours
Ingredients Organic flour, filtered water, organic local honey (with honeycomb), Himalayan Crystal Salt
What will you learn?
How to bake a sourdough bread with honey & honeycomb!
The health benefits of sourdough bread
What will you take home?
Freshly baked honey sourdough loaf
One batch of dough you can take home to bake
Recipe sheet for the Honeycomb Sourdough
One pack of Foodcraft's Raw Granola (worth HK$95)
Seats available 10 people per class
Fees HK$480 per head
About the instructors
Michelle Lau of Nutrilicious
Michelle is a certified nutritionist (MSc.) who specialises in sports nutrition, weight management, and pre/post natal nutrition. She is also a Hong Kong based nutrition educator and health writer whose work has been published in Hong Kong newspapers, magazines, and online media. She also provides nutrition consultancy service for schools, gyms, sports clubs, food retailers and PR companies.
"My mission is to improve the health and well-being of people through nutrition and sports and ultimately lead them to a healthier and happier life. Join me in a blissful journey to enjoying every bite along the way to a healthier and happier life! EAT – Embrace life, Amaze yourself, Try everything!"
For more health and nutrition tips, she can be contacted via nutriliciousss@gmail.com or follow her on Instagram & Facebook @nutriliciousss (instagram@ nutriliciousss /facebook@ nutriliciousss)
Shima Shimizu of Sesame Kitchen
Shima is passionate to create healthy foods easy and tasty. Fermentation has been one of her specialities to teach. Her motto is 'A healthy gut makes the base of a healthy body.' Teaching a wide range of healthy cooking classes in Hong Kong since 2010. Graduate of Living Light Culinary Institute (California, USA) and Institute for Integrative Nutrition (NYC, USA). Worked as a raw food chef at Rasayana Retreat (Bangkok, Thailand). Excited to share the beauty (and flavours!) of fully fermented bread baking without using dry yeast!
About Foodlink
Hong Kong is by and large one of the top polluters of food in Asia, and perhaps one of the top five most wasteful cities in the world. 3,337 tonnes of food waste are disposed into our landfills on a daily basis. By 2019, all three landfills will be fully utilised. As one of Hong Kong's leading hunger relief charities, Foodlink has always placed food education as a top priority. Today, Foodlink is committed to providing a nutritious and healthy meal to needy people in Hong Kong while finding creative, fun, and innovative ways to reduce our city's emissions and waste.
Booking and cancellation
We will confirm your seat(s) once all fees are received. Deadline for any cancellation request is 24 hours prior to the start time of the class. All fees will become non-refundable after the deadline. Cancellation requests should be made in writing at least 24 hours prior to the class for any refund to be made back to your account. If we do not meet the minimum numbers of signups, we might have to cancel the class. We will notify you by the day before the class whether the class will be held or not.