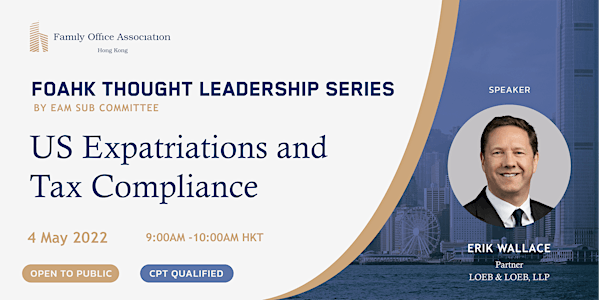 FOAHK Thought Leadership Series – US Expatriations and Tax Compliance
FOAHK Thought Leadership Series – US Expatriations and Tax Compliance
About this event
Family Office Association Hong Kong (FOAHK) is introducing a new Thought Leadership Series, bringing you closer to top industry experts with various topics related to Family Offices and the industry.
In this session, Erik Wallace, Partner at LOEB & LOEB, LLP, will review potential planning options for leaving large amounts of wealth from a non-US person to US persons. In particular, he will discuss Foreign Grantor Trust ("FGT") planning that can escape the US wealth transfer taxes in perpetuity as well as defer the US anti-deferral rules known as the Throwback Rules. In addition, he will address the US tax rules that can apply to US persons looking to relinquish their US citizenship or green card status.
ABOUT THE EVENT:
Date: 04 May 2022 (Wed)
Time: 9:00AM - 10:00AM HKT
Location: Zoom (Details will be included in the confirmation email)
Note:
To make best use of time, questions must be submitted in advance upon registration
Certificate is available upon request following the event to apply for CPT hours, subject to your firm's approval. To receive verifiable CPT hours for regulatory purposes, please ensure that you enter your registered full name on the screen.
ABOUT THE SPEAKER:
ERIK WALLACE | Partner, LOEB & LOEB, LLP
Erik Wallace focuses his practice in the areas of trusts and estates, taxation and international probate, with an emphasis on matters involving U.S. persons or property. He counsels high net worth families in connection with their overall succession planning, often working together with their family offices, businesses, trustees and foundations to meet the families' objectives. As part of that planning, he has assisted clients in structuring or restructuring trusts, as well as establishing private trust companies and international charitable foundations.
Additionally, Erik has worked with families on a number of international probates and helped them implement post-mortem tax planning.
Please join us for an informative professional development session online!