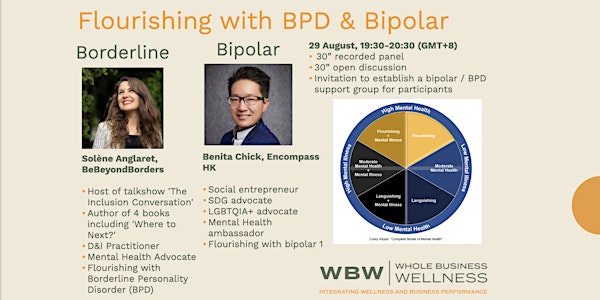 Flourishing with Borderline & Bipolar
Fireside chat about flourishing with Borderline Personality Disorder and Bipolar Disorder
About this event
Brian Henderson of Whole Business Wellness hosts Benita Chick, Founder of EncompassHK and Solène Anglaret, Founder of BeBeyondBorders.
Benita lives and flourishes with Bipolar Disorder and Solène lives and flourishes with Borderline Personality Disorder. Both conditions carry a lot of stigma and are widely misunderstood. We will hear how their disorder affects them, their struggles getting an accurate diagnosis, the sort of professional support they have received, how they flourish and maintain good mental health despite their disorder, how they feel about their condition and how other people respond to it.
The first thirty minutes will be recorded and made available after the webinar. We will then move to a more intimate and open discussion with the audience about the issues raised.
We will invite confidential expressions of interest in establishing a support group for people with Bipolar and BPD.