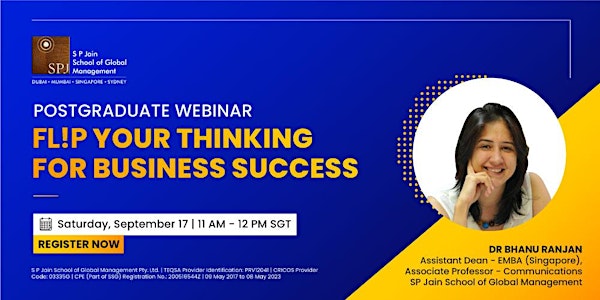 Flip Your Thinking for Business Success
Are you devastated by the smallest of setbacks !?! Flip your thinking and adopt the growth mindset to put you back on development.
About this event
Join us for an exclusive MBA session on "Flip Your Thinking for Business Success" with Dr. Bhanu Ranjan – a thought leader, problem solver, negotiator, volunteer, and educator – on Saturday 17th September 11.00 am – 12.00 pm (Singapore time) as she explains how reframing your thinking and overcoming your own 'negativity bias' can help you rebound for success.
Detect whether you live in the concept of 'Fixed Mindset' versus 'Growth Mindset' to understand the underlying beliefs you have about your own learning and intelligence.
Dr. Bhanu is Assistant Dean and Associate Professor - Communications at S P Jain School of Global Management who has designed and currently leads a soft-skills program for MBA candidates at S P Jain Global crafting global business leaders equipped to lead in the new economy.
She holds a PhD in emotional Intelligence and Leadership Effectiveness and has over 20 years' experience helping individuals and teams with crisis management, negotiation, conflict resolution, management communication, personal branding, presentation skills, and emotional intelligence in the workplace. She is a sought-after speaker and actively volunteers for a variety of community-building initiatives, as well as being an officer in Singapore Armed Force (SAFVC)
ABOUT S P JAIN:
S P Jain's tri-city MBA is ranked #12 by Forbes (2019) and #4 by Times Higher Education-Wall Street Journal (2018) for 1-year International MBAs.
This 12-month tri-city MBA program (study in Singapore, Sydney & Dubai) is suitable for highly motivated and aspiring business professionals looking to take the next big leap in their careers. Upon completion, students graduate with an Australian degree that is recognized all over the world.
S P Jain Global is the youngest business school to achieve the honour of being ranked alongside established prestigious institutions like IMD, INSEAD, IE, Cambridge, Oxford, Warwick and Imperial for our MBA program. We attribute this achievement to our unique and innovative approach to business education.