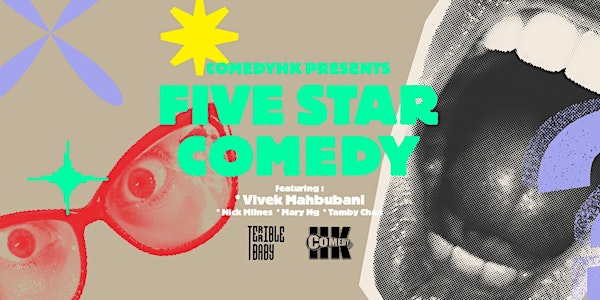 Five Star Comedy @ Terrible Baby ft. Vivek Mahbubani
Five Star Comedy @ Terrible Baby ft. Vivek Mahbubani
When and where
Location
Terrible Baby 380 Nathan Road Hong Kong, HKI Hong Kong
Refund Policy
Contact the organiser to request a refund.
About this event
Vivek Mahbubani is a Hong Kong-bred bilingual stand-up comedian performing in both Cantonese and English. Having been crowned the Funniest Person (in Chinese) in Hong Kong in 2007 followed by his victory in the English category at the Hong Kong International Comedy Competition in 2008, Vivek has had the opportunity to take his sense of humor all over the world including Hong Kong, China, Macau, Singapore, Malaysia, Philippines, Thailand, Sri Lanka, India, Australia, Canada and USA.
In 2014, the World Famous Laugh Factory in USA ranked Vivek as one of the top 10 comedians in their Annual Funniest Person in the World Competition.
In 2015, he was handpicked as one of the comedians to represent Asia's best in Melbourne International Comedy Festival's inaugural "Comedy Zone Asia" shows.
In 2016, he was featured in Comedy Central's first ever "Stand up Asia!" shows. One of Vivek's passions is reading and his favorite book is Sun Tzu's Art of War. Oddly, his favorite color is hot pink.
-
Mary Ng is a bilingual stand-up comedian who has performed in Australia, Malaysia and the mainland China. She did a one-woman show in Cantonese in 2018. Mary also teaches stand-up comedy classes for kids.
http://fb.com/marycomedian
-
Nick has been writing and performing Stand-Up Comedy for 20 years. A two time finalist in the Hong Kong International Comedy Competition, founder member of ImprovAsia and headliner at the legendary Takeout comedy club he's a regular at Scotland's Edinburgh Festival as well as venues across Asia, his native UK, New Zealand, and Australia.
"A half hour worthy of Comedy Central." - Fukuoka Now
-
After immigrating to Canada at the age of 7, Tamby developed his sense of humor as a social defense mechanism in lieu of speaking fluent English. He has been continuously refining his comedic voice through trial and error ever since.
Tamby represented Hong Kong in Laugh Factory's Funniest Person in the World Contest, was the winner of the Bangkok division of the Magners International Comedy Competition 2018, placed second at the regional finals, has been selected as a finalist at numerous international comedy festivals, and has appeared on TV like four times.
"He's so easy. So natural. And what's even better, he's so topical. " - Barry Hilton