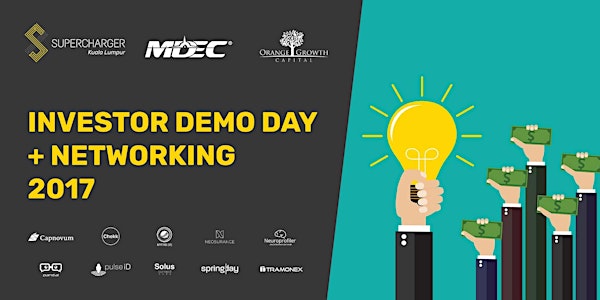 FinTech Investor Demo Day + Networking [SuperCharger KL]
When and where
Location
Maison Française Level 2 No.5 Jalan Changkat Kia Peng Kuala Lumpur, Malaysia 50450 Malaysia
Description
Join us for back-to-back pitches from leading FinTech companies
We would like to invite you to SuperCharger KL 2017 Investor Demo Day on Thursday, November 9th at Maison Française.
The event will feature 8-10 FinTech companies participating in the SuperCharger Fintech Accelerator program.
---
Schedule:
**Each company will pitch for 8 minutes including a 3 minute demo**
09:30 - 10:00 Registration
10:00 - 10:50 Start Up Pitches
~Break~
11:00 - 11:50 Start Up Pitches
12:00 - 14:00 Canapés & Networking
---


Start-up Descriptions
Capnovum [RegTech]. A cognitive compliance management platform providing up-to-date repository of regulations, obligations and regulatory news.

Chekk [KYC & Digital Idenitity]. A Digital Identity ecosystem, individuals are empowered to own and reuse their personal data helping with KYC at banks.

MyFinB [Big Data Analytics]. A cognative analytics tool that uses NLG technology to create reports for SMEs.

Neosurance [InsurTech]. The first AI agent to offer instant contextual insurance protection and assistance through smartphone push notifications.

Neuroprofiler [RegTech & WealthTech]. A behavioral finance game to help financial advisors assess the investor profile of their clients.

Pand.ai [A.I. & Chatbots]. Interactive AI chatbots that understand, remember standard and non-standard English/Bahasa/Chinese.

Pulse iD [Big Data Analytics]. An identity platform with over a million smartphone users, uses geolocation to unlock security, and biometric services to banks, telcos & media clients.

Solus [Cybersecurity]. Providing next generation, multi-factor authentication software that seamlessly integrates biometric security solutions and fraudulent behavior across multiple platforms.

Springday [InsurTech & SaaS]. Empowers health & wellbeing resources to make healthier, happier people.

Tramonex [Payments]. Offers a centralised payment hub that reduces the cost of banking infrastructures and increase efficiencies.
---
DIRECTIONS
WALKING DISTANCE
From KLCC/ Traders Hotel & Mandarin 10 minutes walk Click here
From Jalan Bukit Bintang - 20 minute walk Click here.
Philippines Embassy - 5 minutes walk. Click here
DRIVING DIRECTIONS
QR CODE
Scan QR code to get direction to your smart phone. Download the QR reader from your marketplace.
---


Kind regards,
The SuperCharger Team