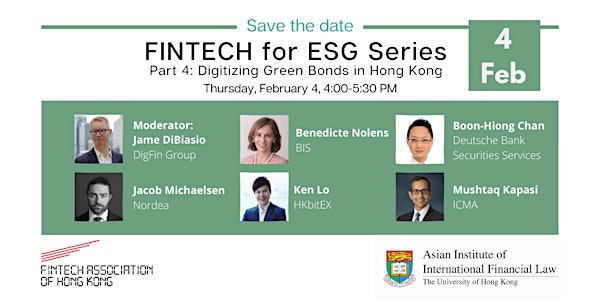 FinTech for ESG Series: Digitizing Green Bonds in Hong Kong
Digitizing Green Bonds in Hong Kong - Part 4 of the series "Fintech for ESG" brought to you by the Fintech Association of Hong Kong
About this event
Hong Kong is emerging as an important center for green bonds, especially for mainland China issuers. But certification, public awareness, and liquidity are just some challenges for issuers and investors.
Can digital technology solve some of these problems? Can expanding blockchain-based green bonds to retail investors also be part of the solution? What experiences can we gain from other markets?
The Blockchain and WealthTech Committees of the Fintech Association of Hong Kong with support from Asian Institute of International Financial Law are organizing a webinar with global participants to discuss the prospects for digitizing green bonds in Hong Kong. Join us on Thursday, February 4th, at 4PM HKT/SGT.
Speakers:
- Benedicte Nolens, Head of BIS Innovation Hub Hong Kong Centre, BIS
- Boon-Hiong Chan, Global Head, Securities Market & Technology Advocacy, Securities Services, Deutsche Bank (Singapore)
- Jacob Michaelsen, Head of Sustainable Finance Advisory, Nordea (Denmark)
- Ken Lo, Co-Founder and Chief Strategy Officer, HKbitEX; Board Member, FTAHK (Hong Kong)
- Mushtaq Kapasi, Managing Director and Chief Representative, Asia Pacific, International Capital Market Association (ICMA) (Hong Kong)
Moderator:
Jame DiBiasio, Founder & Editor, DigFin Group
Topics to be discussed:
- Hong Kong's green-bond opportunity
- Challenges for issuers and for investors
- Standards
- Digital platforms
- Distribution (wholesale, HNW, retail, Greater Bay Area)
- Bonds on blockchain, from origination to settlement
- International examples
Previous Session:
Blockchain's role in carbon markets (August 19)
Playback: https://youtu.be/bNoO6ZabJFQ
Data for Asset Managers (September 23)
Playback: https://youtu.be/FPFKSFiEoEU
A.I. and Visualization of ESG Risk Factors (October 21)
Playback: https://youtu.be/3NHyCA638x8
Upcoming Sessions:
TBA: How Asset Managers are Implementing HKEX's ESG rules