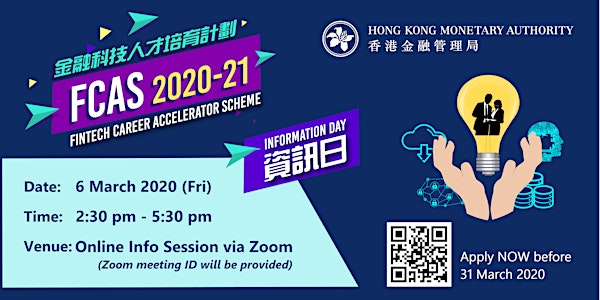 Fintech Career Accelerator Scheme - Online Information Session 2020
FCAS provides students with internship opportunities in the fintech industry. Attend the online webinar session for more details.
About this event
[Latest Update - Please Read]
1. The online information session will be held on 6th March 2020, 2:30pm - 5:30pm through Zoom.
2. The FCAS Gap Year Placement Programme 2020/21 is now OPEN for application. You can apply via this link (https://stp.hk/FCAS). The application deadline is 31 March, 2020.
3. For more information and the latest update of the programme, please visit http://www.hkma.gov.hk/fcas.
About Fintech Career Accelerator Scheme ("FCAS")
Fintech Career Accelerator Scheme ("FCAS") is a talent development scheme initiated by the Hong Kong Monetary Authority (HKMA) and the Hong Kong Applied Science and Technology Research Institute (ASTRI) in 2016 to nurture talents to meet the growing needs of Fintech in Hong Kong. The new intake in 2020/21 is jointly oragnised by the HKMA, ASTRI, Cyberport and Hong Kong Science and Technology Parks Corporation (HKSTP). Students from participating universities are invited to join this scheme via a full-time, semester-based internship which interns will work on Fintech projects at banks or SVF operators and receive training and regulatory updates respectively. In 2020, job positions are newly offered by virtual banks.
Students are invited to join the FCAS Online Info Session to touch base with representatives from participating financial institutions to understand job requirements, duties and training opportunities. Please join us and pre-register at this page.