Description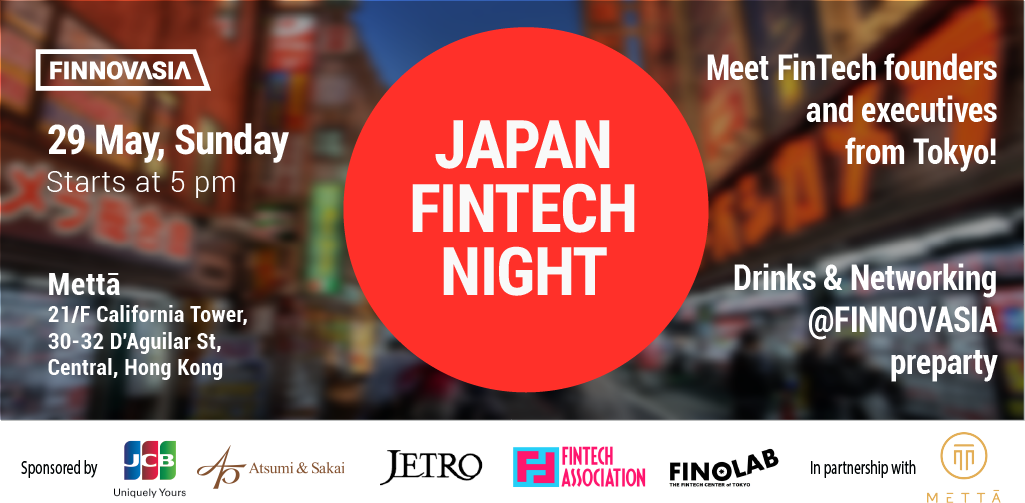 To celebrate the upcoming FINNOVASIA event we are organizing a Japan FinTech Night together with FinTech Association of Japan and Mettā. We are bringing outstanding FinTech entrepreneurs and executives from Tokyo to meet Hong Kong FinTech community. The event is open for all FINNOVASIA attendees and anyone who is interested in FinTech. Come by for drinks and networking and to learn about Japan FinTech space. The registration is free but space is limited, so hurry up!
Agenda:
17:00 - 17:30 Registration / networking
17:30 - 17:40 "FinTech landscape in Japan" Ms. Sanada, PR and Marketing Manager, FinTech Association Japan
17:40 - 17:50 "Innovation Changes the Financial Services Markets and Regulation in Japan." Ms. Yuri Suzuki, Partner, Atsumi & Sakai
17:50 - 18:05 "Introduction of FinTech startups of Japan" Mr. Nao Kitazawa, COO, MONEY DESIGN Co.
18:05 - 18:20 "What's FINOLAB?" - How to support FinTech ecosystem in Japan" Ms. Ito, ISID Co.
18:20 - 18:45 Panel conversation "How to promote open innovation in Asia"

- Mr. Tatsuto Fujii, Senior Manager, Digital Innovation Division, Mitsubishi UFJ Financial Group
- Mr. Tomoyuki Sugiyama, Founder & CEO, Crowdcredit
- Ms. Ito, ISID Co.
- Mr. Nao Kitazawa, COO, MONEY DESIGN Co.
Moderator: Ms. Yuri Suzuki, Partner, Atsumi & Sakai
18:45-19:45 Networking & Drinks