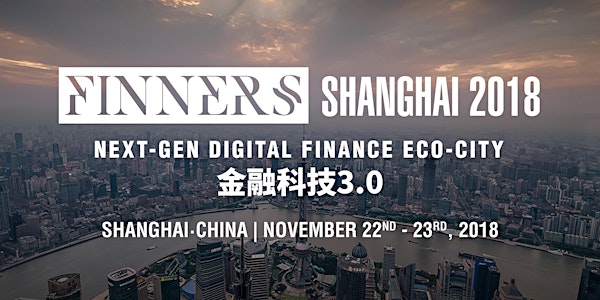 Finners City Fintech 3.0
Description
Finners City
FEA-consulting has been working on Finners for several years, and the next generation Finners will enter the market in the second half of 2018. Finners City, its flagship product, made its debut in Shanghai, China from November 22-23, 2018.
Finners City is a top business platform integrating high-end business social contact, precise and efficient resource acquisition, extreme on-site experience and international advanced case sharing, creating a audio-visual feast of the most commercial value for each finners-tech elite.
After years of searching for the hot spots in the financial technology industry and the successful process of the financial summit, Finners City is now comprehensively upgraded to a systematic, industrialized, globalized and precise gathering of financial technology thoughts.
Commercial value of Finners City brand:
Covered by financial technology elite
100,000 people watch it online worldwide
1500 fintech elite participation
500m squared brand showcase
An elite party of 150 people
120 big names to share
100 global media follow
50 percent core market participation
30 head media special reports
24 hours of social productivity
Live broadcast on 20 platforms worldwide
3 special activities of major themes
1 fintech resource platform
The core agenda:
Day One
11月22日, November 22
Morning
Session One: FinTech 3.0
Session Two:Searching or the New balance: The Future Development of Consumer Finance
Session Three:Risk, Compliance, Anti-Fraud Management
Session Four:From FinTech to InsurTech
Session Five:The Future Has Arrived: Talent show of global Fintech startups
Day Two
November 23
Session Six:Digital Ban-Tech: The Past, Today and Future
Session Seven:The technology Breakthrough and Subversion in Blockchain
After Party
November 23 Night
FINNERS Black-Tech
Accurate and efficient resource docking:

Intelligent online appointment system: help you plan your field trip in advance
AI activity management system: keep abreast of the latest activities

Demand prediction system:
commercial resources are connected ahead of time to help you complete preliminary communication of intention ahead of time

Gold key butler:
Top level hotel golden key butler service
Complete customized travel planning
Personal assistant for on-site business trip
7*24 hours dedicated line one-stop solution
contact:Lena wechat:150 4500 4619 email:lena.li@fea-consulting.cn