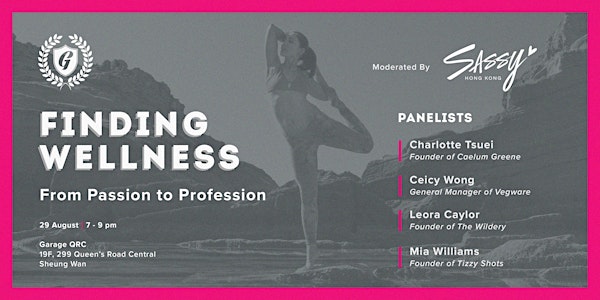 Finding Wellness: From Passion to Profession
When and where
Location
Garage Society QRC 19/F 299 Queen's Road Central Sheung Wan Hong Kong
Description
Garage Academy is teaming up with Sassy Hong Kong to host a tell-all panel event featuring wellness pioneers in Hong Kong. Join us on Tuesday 29th August for an honest, inside look on what it takes to invest in your passion and turn it into a thriving venture in our non-stop urban jungle.
Panelists
Charlotte Tsuei, Founder, Caelum Greene
An avid yogi with a passion for fashion, Charlotte began her professional career in fashion retail at Zobha, a California-based yoga apparel brand, before the business was acquired by Kellwood Company.
After fulfilling her dream of deepening her yoga practice and becoming a certified instructor, Charlotte sought further education in the creative discipline to compliment her business background. In 2012, Charlotte graduated top of her class from FIDM – San Francisco, before relocating to Hong Kong, where she worked in merchandising at Christian Louboutin, the luxury French footwear brand renowned for their signature red sole.
More recently, Charlotte joined Pure International, Asia's leading lifestyle brand with a portfolio of wellness-focused businesses spanning from gyms and yoga studios to food & beverage and apparel, as their Regional Retail Manager, overseeing 15 locations across Asia Pacific.
Ceicy Wong, General Manager, Vegware Greater China
Ceicy is the business partner of Vegware Global and General Manager of Vegware Greater China, handling operation within Asia's premier fully compostable food packaging company. Prior to founding Vegware Hong Kong, Ceicy held various sales and marketing positions in the luxury goods industry with Asia Pacific regional responsibilities. Ceicy gained a MBA degree in Luxury Brand Management at ESSEC in France after having been educated in the UK and the US.
She hopes to be at the forefront of introducing a "new luxury" to Hong Kong - sustainable social enterprise whilst making a difference and contributing to the community.
Leora Caylor, Founder, The Wildery
By day, I write songs and hunt for butterflies. By night, I read books and consult and train with forward-thinking experts around the world on health and advances in alternative medicine.
And in my free time, I look for the best place outside the city to camp under the stars. The Wildery is the collision of these interests, because I believe true health is a body, mind and spirit thing, it's about exploring Wellbeing for Your Whole Being™.
Mia Williams, Founder, Tizzy Shots -
Tizzy Shots founder Mia Williams is a scientist, wife and mother of two. Ever on-the-go, Mia recognised a lack of easy-to-consume, healthful products in Hong Kong and set about creating her own wonder shot.
With a stint as a researcher at MIT under her belt, Mia understands the science behind the miracle root that is ginger. Packed with active ingredient gingerol, the all-natural elixirs are big on antioxidants, bioactive ingredients and of course, unbeatable flavor.
Agenda
7.00pm Registration
7.15pm Panel Discussion - From Passion to Profession
8.00pm Q&A
8.20pm Networking
9.00pm Close
Brought to you in collaboration with Sassy HK