FinCity.Tokyo, the promotional organization for Tokyo for financial services, will continue its series of Global Networking Events in 2021
About this event
*The pitch presenters are now fixed. You may find the names of the companies below. (Updated on 9th November)
*We posted the same event information on both Peatix and Eventbrite platforms. Please register through either which is convenient to you.
*Link to join Zoom meeting added. Please contact secretariat (fincity.tokyo@jp.ey.com) if you cannot join the webinar. (Updated on 24th November)
---FinCity.Tokyo, the promotional organization for Tokyo for financial services, will continue its series of Global Networking Events in 2021 in order to help foreign firms, both with or without a presence in Tokyo, connect with the local financial services ecosystem.
At this fourth webinar, we will focus on asset management. We will have a major Japanese asset owners or gatekeepers etc. present Recent changes in Japanese Asset Owners and opportunities for foreign asset managers and then a series of pitch by pre-selected foreign asset managers to an audience of Japanese asset management industries.
[Target Audience]
•Asset Management companies, headquartered overseas, with or without a Japan presence•Japanese Asset Management Industries, such as asset owners, gatekeepers, placement agents, asset management companies, who want to watch pitches of foreign asset managers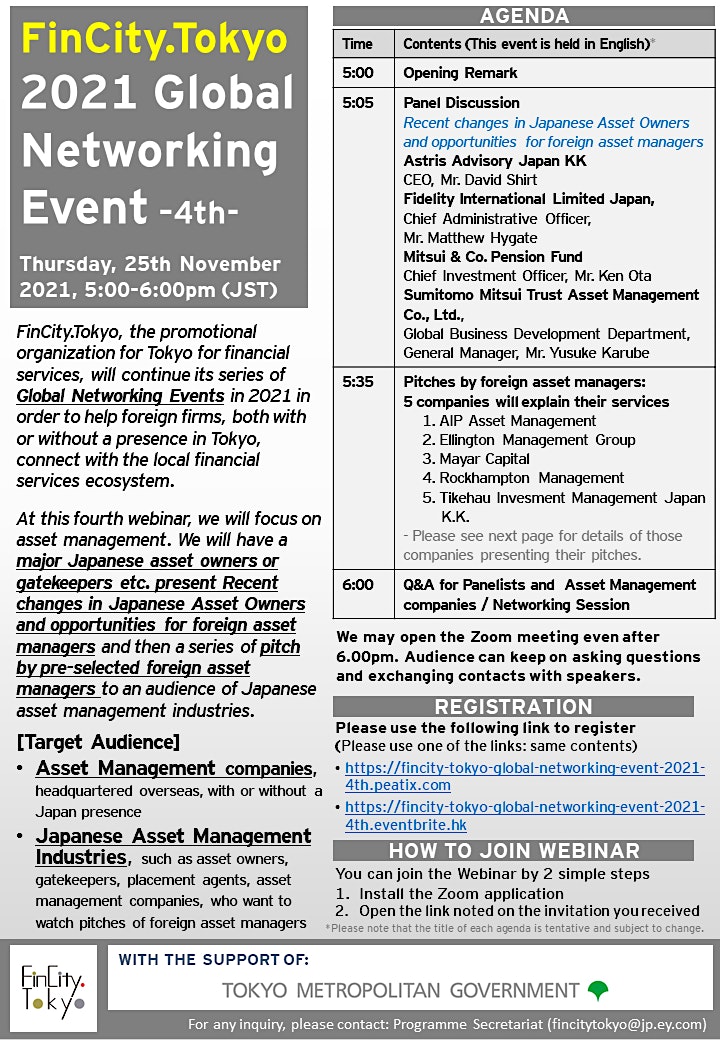 Organiser of FinCity.Tokyo 2021 Global Networking Event -4th-
FinCity.Tokyo is an organization that aims to boost the attractiveness of Tokyo's financial markets and raise its profile as a top-class global financial city, while conducting various promotional activities through private–public partnerships. With members comprising financial institutions, operating companies, industry groups and government agencies, we are striving to showcase Tokyo as a convenient financial city, while providing relevant institutions with information on user experiences.
東京国際金融機構は、東京が世界に冠たる国際金融都市になることを目指し、官民連携で取り組む各種プロモーション活動を推進する組織です。

東京国際金融機構には、東京に拠点を置く金融機関、事業会社、業界団体、行政機関などが会員となり、東京の金融都市としての魅力を情報発信していくほか、利用者の声を関係機関に届け、利便性向上を目指す取り組みを進めていきます。