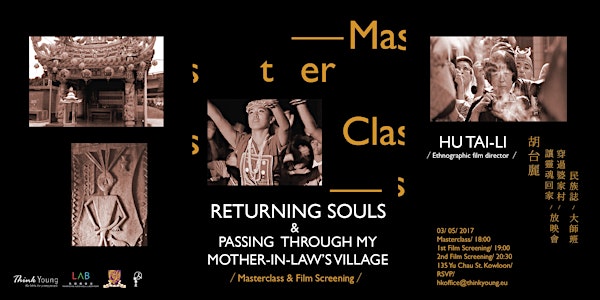 Film screening &Masterclass: HU Tai-Li
When and where
Location
ThinkYoung Lab 135 Yu Chau Street Kowloon Kowloon Hong Kong
Description
電影展映 及 大師班:讓靈魂回家 與 穿過婆家村
Film screening & Masterclass : Returning Souls & Passing Through My Mother-in-law's Village

時間 Time
18.00 胡台麗大師班 Masterclass
19.00 讓靈魂回歸 Returning Souls
20.30 穿過婆家村 Passing Through My Mother-in-law's Village


關於導演:
胡台麗為台灣資深紀錄片導演及民族誌電影的先鋒大師,她的影片屢獲台灣金馬獎,休士頓國際影視展,台灣國際紀錄片影展等國際獎項。現職為中央研究院民族學研究所所長。

About Director:
Hu Tai-Li is a pioneer of ethnographic films in Taiwan. Her films received awards at the Taipei Golden Horse Film Festival, Chicago International Film Festival, Houston International Film Festival, Taiwan International Documentary Festival and many others. Hu is currently the Director of the Institute of Ethnology, Academia Sinica in Taiwan.

讓靈魂回家: 台灣母系阿美族文獻中最有名的太巴塱Kakita'an祖屋柱子上有許多圖紋,講述著這個太陽母神後裔包括大洪水、會發光女孩、兄妹婚、巫師降世,以及弒父與獵首起源等神奇傳說。1958年大颱風將祖屋吹倒後,這些柱子被搬移到中研院民族所博物館收藏。近年在太巴塱年輕人的積極推動下,透過女巫師的媒介,讓Kakita'an家族和村落代表與柱子中的祖靈接觸、對話,最終將祖靈請回部落並展開祖屋重建。在外來宗教影響、土地所有權爭議與複雜的部落文化生態中,年輕人想找回太巴塱祖靈及部落靈魂的文化復振夢想遭遇許多困難。這部紀錄片將神話傳說與現實、看得見的與看不見的交織,記述這個特殊而動人的歸還與重建事件。

Returning Souls: In the historically most famous ancestral house of the matrilineal Amis tribe in Taiwan, the carved pillars tell legends, such as the great flood, the glowing girl, the descending shaman sent by the Mother Sun, and the father-killing headhunting event. After a strong typhoon toppled the house 40 years ago, the pillars were moved to the Institute of Ethnology Museum. Recently young villagers, with assistance from female shamans, pushed the descendants and village representatives to communicate with ancestors in the pillars. They eventually brought the ancestral souls(rather than the pillars)back and began reconstructing the house. In an environment highly influenced by western religions, national land policy, and local politics, the dream of the young people for cultural revitalization and to bring back not only the ancestral souls but also the soul of the village encountered many frustrations. This documentary interweaves reality and legends as well as the seen and the unseen as it records the unique case of repatriation.


穿過婆家村: 由於東西向快速道路即將穿過劉厝村而過,本片作者胡台麗回到她的婆家村落劉厝,也是她十幾年前以外省媳婦身份進入的第一個人類學田野,為這個台灣農村留下變遷的容顏。全片以道路興建而引起的田地房舍徵收事件為貫穿主軸。隨著兩期稻作的時序轉換,以親切自然的風格,在日常生活儀節中呈現村人對土地、祖先、神鬼、婦女、都市化、工業化、村舍拆遷等的態度。作者企圖在影像中尋找台灣人面對急遽變遷時的安身立命之道。

Passing Through My Mother-in law's Village: The East-West Highway was soon to be built in central Taiwan. It would pass through the village of Liu Ts'o, and many homes and rice paddies would be destroyed. The filmmaker went back to her mother-in-law's village Liu Ts'o, where she did anthropological research from 1976-78, to preserve some images of life forever. This film was shot in a natural and intimate climate. During the annual two harvests, various activities in daily life and festivals were presented in the film reflecting the villagers' attitudes towards gods, ghosts, ancestors, women, farmlands, urbanization, industrialization, reclamation and resettlement. The film maker attempted to reveal the Taiwanese way of facing drastic social changes.
活動免費,敬請預約
Free Admission, please RSVP