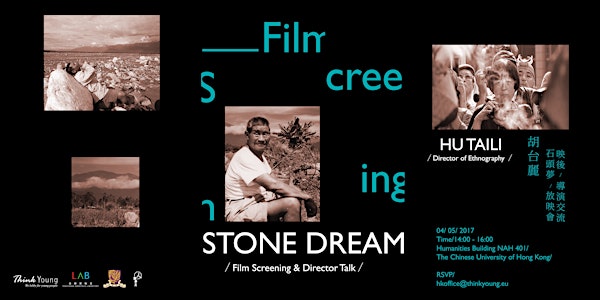 Film Screening & Director Talk | STONE DREAM
When and where
Location
NAH12 New Asia College, Chinese University of Hong Kong Hong Kong Hong Kong
Description
Film screening & Director talk : STONE DREAM
胡台麗為台灣資深紀錄片導演及民族誌電影的先鋒大師,她的影片屢獲台灣金馬獎,休士頓國際影視展,台灣國際紀錄片影展等國際獎項。現職為中央研究院民族學研究所所長。
Hu Tai-Li is a pioneer of ethnographic films in Taiwan. Her films received awards at the Taipei Golden Horse Film Festival, Chicago International Film Festival, Houston International Film Festival, Taiwan International Documentary Festival and many others. Hu is currently the Director of the Institute of Ethnology, Academia Sinica in Taiwan.
石頭夢講述一個關於台灣外省老兵和台灣原住民妻子的故事,觸碰台灣敏感的國家和身份認同問題。「石頭」是本片最重要的象徵,將辛苦在石堆中開墾的劉必稼這一代和喜愛撿拾與玩賞石頭的劉必稼兒子這一代連繫起來。在片中悠遠質樸的古琴聲伴隨下,與溪流浪花共織夢想。
Stone Dream touches upon the sensitive issue of national and ethnic identities in Taiwan - a story about a mainland soldier who married an indigenous woman. Stones, the most important symbols in this film, link the young and old generations. This film, accompanied by classical Chinese lute music, presents the flow of stone dream.
*入選2004年荷蘭阿姆斯特丹國際紀錄片影展競賽片;入圍2004金馬獎最佳紀錄片並獲年度最佳電影工作者獎;獲2004金穗獎優等影片;入選2005年法國巴黎國際民族誌影展;入選2005年以色列南方影展;入選2006年德國哥丁根國際民族誌影展;
Film Festivals, Screenings, Awards
International Documentary Film Festival, Amsterdam, June 2004
Golden Horse Award- Best Documentary, Tapei Golden Horse Film Festival, 2004
Theatrical Release, multiple cinemas, Taiwan, 2004
Bilan du Film Ethnographique, Paris, 2005
South Film Festival, Israel, 2005
Gottingen International Film Festival, Germany, 2006
免費活動,敬請預約 hkoffice@thinkyoung.eu
Free Admission, RSVP to hkoffice@thinkyoung.eu