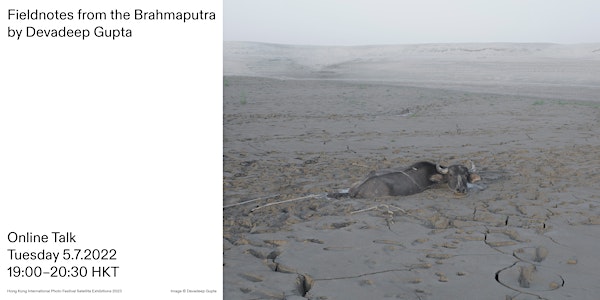 "Fieldnotes from the Brahmaputra" - An Online Talk by Devadeep Gupta
"Fieldnotes from the Brahmaputra" – An online talk by artist Devadeep Gupta on image-making about social issues.
About this event
As an initiation for Satellite Exhibitions 2023, we are excited to have artist Devadeep Gupta to host a talk for us on photographic approaches on social issues. He will be sharing his perspectives and interpretation on photography as a tool to address changes and incidents in society, as well as how he has shaped his documentary and image-making practice through various challenges and reflections.
Date: 5th July, 2022 (Tue)
Time: 7pm-8:30pm (HKT)
Language: English
Platform: Online by Zoom
About Speaker
Devadeep Gupta is a visual artist and filmmaker based out of Guwahati, Assam in India. His practice lies in the mutuality of lens-based media, installations, collaborative performances knit together through concurrent conceptual narratives. Devadeep graduated with a Master's degree in Public Arts and New Artistic Strategies from Bauhaus University, Germany. Since his earliest engagements in academic and professional spaces as a Visual Practitioner, he has been drawn towards work that engages communities through values of transparency and empathy. Through his practice, he reflects his position on the socio-cultural landscapes of his work. Apart from his personal art-making, he directs his efforts towards creating an avenue in the North-East India through Northeast Lightbox (NELB, a collective co-founded by him and Hrishikesh Chowdhury, a social worker from Assam), that can facilitate more accessibility towards visual art, while cultivating an inclusive space of dialogue and exchange for art-makers and practitioners along with generating new audiences.
Support HKIPF
Support freedom of expression and help facilitate the growth of the arts by making a donation to the Hong Kong International Photo Festival. You may reach us at our contact number or email. Your contribution will go towards our operation, future programmes and keeping our events accessible.
Donations of all sizes received, after deducting the costs, will be used for matching on a 1:1.5 ratio under the Art Development Matching Grants Scheme.
The Hong Kong International Photo Festival is organised by the Hong Kong Photographic Culture Association, which is a tax-exempt charity under section 88 of the Inland Revenue Ordinance. Donations above HKD 100 are tax deductible.
The Festival was launched in 2010. In each edition, the Festival focuses on a different theme, introducing noteworthy photographers, trends, and movements, discussing manifold issues and perspectives. Through a wide range of public programmes, the Festival bridges Hong Kong and international visual practitioners, creating conversations between people and place, past and present, with oneself and the world.
With your support, we hope to make ever greater progress in the coming decade.
Hong Kong Photographic Culture Association Limited is financially supported by the Art Development Matching Grants Scheme of the Government of the Hong Kong Special Administrative Region.
The content of this programme does not reflect the views of the Government of the Hong Kong Special Administrative Region.