Location
meatmarket.hk Pop Up Kitchen
65 Wong Chuk Hang Road
Gee Chang Hong Centre
Wong Chuk Hang, HKI
Hong Kong
Our tasting is a collection of our most premium festive fare products, which will be prepared and served in small portions for you to try.
About this event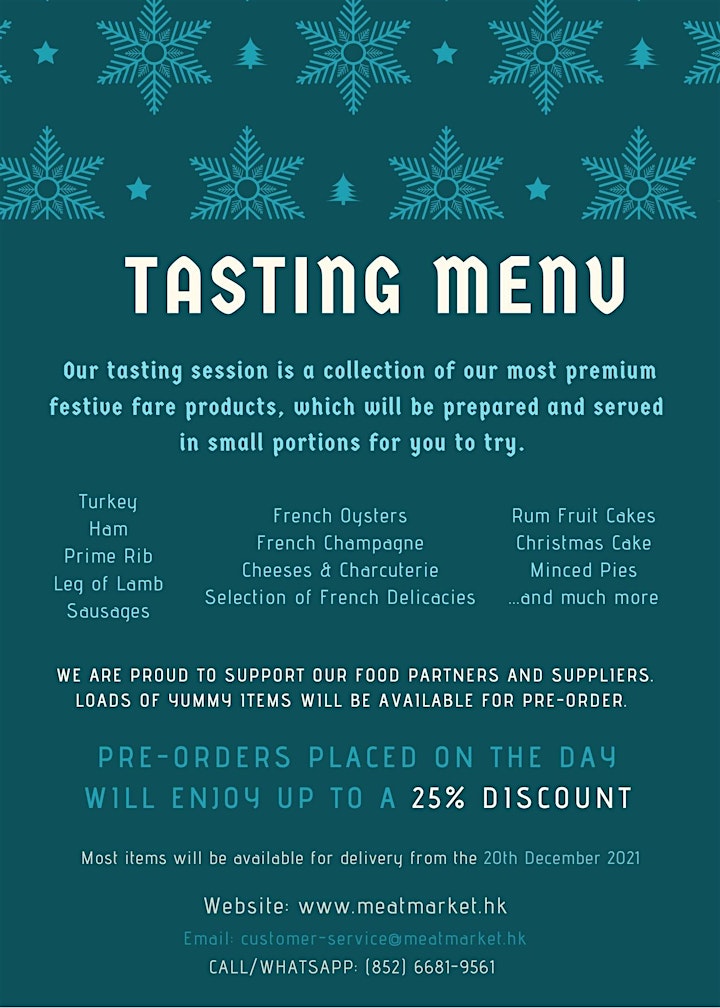 A FESTIVE FARE TASTING BY MEATMARKET.HK
TASTE | DRINK | SHOP
Don't know what size turkey to buy? Need inspiration? Taste before you buy? Or just want to come and say HI to Ivy & Johnny?
Orders placed on the day will receive up to 25% off selected festive fare items.
Join our tasting sessions and experience lots of gourmet festive goodies that are special for this time of the year.
Register online and enjoy the tasty session for $288. To join on the day, the tasting sessions is $388.
All tasters will receive a $200 gift voucher to use on the website on their next order.
Saturday 4th December 2021 - 11:30 - 15:30
Don't have time to taste? You can still enjoy the discount for our festive fare items showcased on the day if you register online attendence.
Our festive products will be on full display - Turkey, Goose, Duck, Roasting Joints and much more! Chat to our butchers and let us help you come up with a spectacular festive meal to wow your friends and family!
Go to www.meatmarket.hk for further details, or follow our FB Page @meatmarket.hk for updates