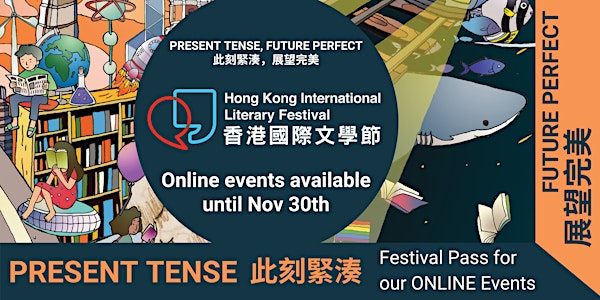 Festival Pass - 20th Hong Kong International Literary Festival Online Event
Get your Festival Pass at a bargain price to gain access to all of our online events this year!
Refund Policy
Contact the organiser to request a refund.
About this event
This year's re-imagined festival offers the best of all worlds, with a wealth of literary talent, thought-provoking discussion, laughter and learning. Going virtual has allowed us to bring a wider range of high-profile authors to the festival than ever before. This year's line-up includes two 2020 Booker Prize longlisted authors, Colum McCann and C Pam Zhang; Irish Fiction Laureate, Sebastian Barry; Pulitzer Prize winners Jhumpa Lahiri and Jonathan Kaufman; Vera and Shetland crime series author Ann Cleeves; poet Marilyn Chin, editor of The Atlantic David Frum; historians Thant Myint-U, and William Dalrymple; and journalists Ananth Krishnan, Bob Davis and Lingling Wei. Additionally, there will be a vibrant group of Hong Kong and regional writers and speakers including Chan Koonchung, Dorothy Tse, Kai-Yin Lo, Christine Loh, Elizabeth Sinn and many more.
Our 20th edition theme 'Present Tense/Future Perfect' explores in fiction and non-fiction how the world is responding to issues such as health, inequality and climate change, as well as possible future directions for humanity and the planet. Lynda Gratton and Andrew Scott will discuss their latest book, The New Long Life: A Framework for Flourishing in a Changing World, and panels will examine issues such as the future of US politics and US-China relations, racism in Asia, the world post-COVID-19, and the future of food. Other highlights include a series of book talks and film screenings featuring local filmmakers, and Bruce Lee's daughter Shannon Lee discussing her book, Be Water My Friend: The Teachings of Bruce Lee. Novelist Romesh Guneskera who took part in the first festival in 2001 will join us again, and Hong Kong born poet Marilyn Chin and her iconic work, Urban Love Poem, will close the festival, with Chin and local and international poets reading their own urban love poetry.
As befits a Hong Kong Festival, we are truly multi-lingual this year, with events in Cantonese or Mandarin as well as English. Some events will have simultaneous interpretation and all our online events will be uploaded 24 hours after broadcast with added subtitles: Chinese subtitles for English language events and English subtitles for Chinese language events.
One purchase provides access to all of our online events at a bargain price. When you buy a pass, you will receive an email with instructions for event access. All our online events will remain available throughout the festival period until 30th November.