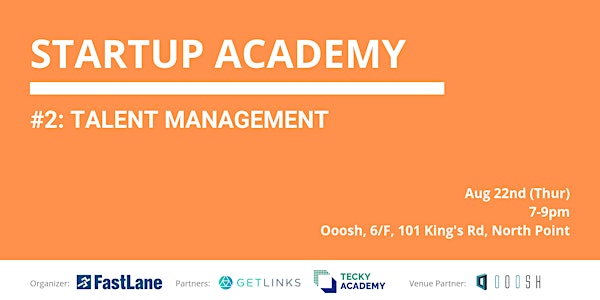 Fastlane Startup Academy 2 - Talent Management
FastLane is is glad to present its Startup Academy 2019 Series, with guest speakers from HSBC, Tecky Academy and Getlinks!
When and where
Location
Ooosh 6/F 101 King's Rd, North Point Hong Kong, HKI Hong Kong
About this event
Join us to learn the best practices in talent management, acquisition and retention. The following topics will be covered in this workshop:
1. Tech hiring trends and different kinds of recruitment channels in Hong Kong
2. Common mistakes startups make when hiring, and tips to avoid them
3. How to identify the right tech talent
4. HR related regulations in Hong Kong including MPF including visa applications and statutory leave requirements.
Below are the event details:
Topic: FastLane Startup Academy: #2 Talent Management
Time: 7:00 PM to 09:00 PM
Date: Thursday, 22nd August 2019
Venue: Ooosh 6/F, 101 King's Rd, North Point, Hong Kong
Rundown:
7:00-7:30pm - Registration & Networking
7:30-8:30pm - Presentation
8:30-9:00pm - Q&As
About the speakers:
Partner and Head of Payroll and HR Solution Services, FastLane HR
Cindy is a qualified accountant with over 20 years of experience in accounting, auditing, corporate services, taxation, management and financial planning. She has worked with various multinationals including PricewaterhouseCoopers and ING. Cindy was the Senior Vice President and Company Secretary of a Hong Kong GEM board-listed company. She holds an MBA from Manchester Business School. She is also currently the Managing Director of Hong Kong Administrative Services since 2007 and providing high quality corporate services to local and overseas clients.
Senior Vice President, Corporate, Pensions, HSBC
Alex is a seasoned executive in HSBC Pensions for more than 15 years and he currently leads a team of corporate specialists supporting employers in retirement schemes and MPF. Alex has extensive corporate servicing experience in asset management and international fund house prior to his current role. He holds bachelor Degree in Economics and is a Certified Financial Planner.
Talent Manager, Getlinks
Andrew is a startup and tech enthusiast. Coming from a traditional recruitment background, Andrew recruited for varies kinds of companies, from startups to MNCs, mostly in the tech/sales & marketing sector. In GetLinks, Andrew is always working with startups, helping them to recruit on GetLinks platform, formulate recruitment strategies, and mostly importantly helping startups to grow.
Co-Founder, Tecky Academy
Alex is a serial entrepreneur, award winner and technical coach with 20-year hardcore programming experience. He is strongly passionate in both programming and teaching. He is proficient in over 10 programming languages and has developed several mobile applications with over 200k downloads. He has coached over 100 students with the required skills to work as a software developer. By devising appropriate methods and strategies of teaching, he desires to enhance the competitiveness of the entire IT industry in Hong Kong and to improve the overall quality of the local software developers.
About the companies:
The FastLane Group was founded in 2013 as an accountancy and advisory firm that combines innovation and technology to provide professional services that focus on Entrepreneurs, Startups, Fast Growing Technology Companies, Startup Angel Investors and Venture Capitalists. The FastLane Group provides best in class service for businesses wishing to launch and operate in Hong Kong, ensuring they maintain the financial and compliance requirements as regulated in Hong Kong.
Tecky Academy is founded with the belief of providing affordable and career-centric technology education to who are interested in pursuing a career in the technology field. "Discover the tech Discover yourself" is our motto to help everyone to unleash their tech potential . We are formed by a team of experienced Software Developers with years of planning, developing and administering software projects and systems.
GetLinks is a platform and ecosystem that connects tech talents with opportunities across Asia. We support people to build their skills, their connections, their teams and their careers.
Ooosh provides collaborative workspaces for businesses to thrive under the world of hyper-transformation. Ooosh believes agility, flexibility and connectivity are the 3 essentials for businesses to thrive in this modern age. Hence, our mission to be the stepping stone of your success. Founded in 2016, Ooosh Coworking is the Coworking Space that cares about the success of our members. We have a community of forwarding thinkers and achievers, growing at an average of 3.6x in team size after joining us and generating over hundreds of thousands of USD worth of Collaborative Businesses Value.
Together, Let's Grow