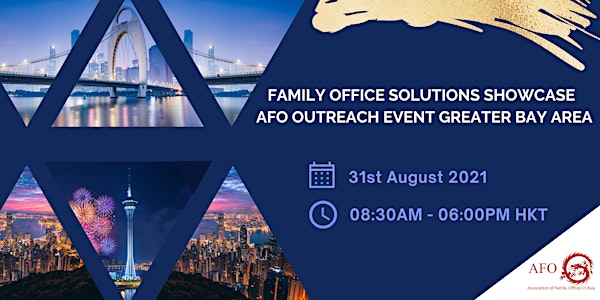 Family Office Solutions Showcase Outreach Summits - Greater Bay Area
Location
6th floor, the Bank of China Building (Chinese: 中國銀行大廈)
no. 2A Des Voeux Road Central, Hong Kong
Hong Kong, KOW
Hong Kong
Family Office Solutions Showcase Outreach Summits - Greater Bay Area
About this event
AFO and APB have organized Family Office Solutions Showcase (FOSS) , which is part of our Asia Futurist Leadership Summit since 2012. We engage family offices, leaders in enterprises and industry practitioners for exploring business and action plans that contribute to better future. With the extensive development of Asia Family Offices and our established chapters in Mainland and ASEAN countries, we would like to organize FOSS outside Hong Kong in different formats, reaching out and exchanging more with stakeholders.
Key Theme : International Family Office Hub, LPF & OFC, SFOs & MFOs in GBA, Challenges Facing the Industry & Solutions, Green Finance
Date: 31/8/2021 08:30 am- 18:00 pm
Format: Hybrid
In Person Meet Up : Central
Online : VooV, EventX and TV Broadcast
Agenda:
Morning Session:
0830 am - 0845 am Organizer & Venue Sponsor Welcome Speech
0845 am - 0930 am Family Offices Ecosystem Roundtable
0930 am – 1000 am Family Offices Keynote Speech By FSTB
1000 am – 1045 am Soil For Developing HK as Green Finance & Family Office Hub
1045 am - 1130pm Tech Boom in GBA - What's Going On
1130 am - 1200 pm HK Fund Regime For Private Investments
1200 pm - 1245 pm Setting up professional practice or entity in GBA
Lunch Break
Afternoon Session:
1400 pm – 1430 pm Make Sustainability Mainstream
1430 pm – 1515 pm Philanthropy, Legacy & Sustainability, Why do they matter to family offices?
1515 pm - 1545 pm Sustainability & Impact Investing By Family Offices - Case Sharing
1545 pm - 1800 om Global Network & Exchange Over Online Booths
Interested parties, please make your enrollment at https://bit.ly/3qybrkj