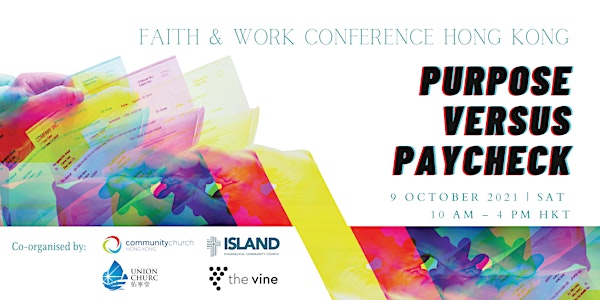 Faith & Work Conference Hong Kong 2021- Purpose vs Paycheck
Faith & Work Conference Hong Kong 2021 Purpose vs Paycheck
When and where
Location
Island ECC 633 King's Road 10th Floor Quarry Bay, HKI Hong Kong
About this event
PLEAST NOTE: This event is sold out and there are no walk in tickets available on the day.
100+ people passionate about faith in the workplace - or simply curious! - will gather in Hong Kong on the 20th of November for Faith & Work Conference Hong Kong 2021. Join us in-person as we explore these questions together:
Top 10 reasons why you don't want to miss this conference:
Innovative ideas about how God is at work at your work!
Fresh new ways to see and understand your calling--right in the midst of your career!
Powerful practical tips on handling office politics, tricky ethical issues and challenging work relationships!
Great friends and colleagues sharing passionately about career and calling!
Awesome speakers to inspire your work and faith!
A chance to meet and network with colleagues in your professional/industry group!
Great moments of love, laughter and learning!
Old friends and new friends from churches across Hong Kong!
A fresh outpouring of the Holy Spirit and the heart of God for you in your life and work!
An opportunity to be commissioned as an agent in the Kingdom and a leader in your workplace for the great things of God!
Our Speakers include:
Brenda Loong: Brenda is the Associate Pastor at Community Church, and she is passionate about equipping Christians to live out their faith in the workplace. Brenda read law at the University of Bristol and she also has a Commerce degree from the University of Melbourne. Brenda worked in the legal and business world for many years before going to Regent College in Vancouver for her MA in Theological Studies.
Jessica Evans: Jess is the Work Life Ministry Pastor at the Vine Church and is a firm believer in the dispersed Church - That God will transform our world through believers fully living out their God-given call in the world.
Kwen Ip: Kwen is the Director of Women's Ministry at Island ECC. She spent half of her working life in the corporate world of international telecoms, Executive Coaching and Organisational Development. Kwen has a BSc. in Human Psychology, MSc. in Telecommunications Business Management and an MA. in Theology, Ministry and Mission. Kwen is passionate about awakening, raising and mobilising (ARMing) God's people for kingdom living and the workplace is one of the places she has set her sights on.
Steve Gaultney: Steve is the Managing Director of the Faith and Global Engagement Programme at HKU. Prior to joining FGE, Steve led internaitonal churches in the U.K., Germany and Hong Kong. Previously, Steve was the U.K. Marketing Director for Anderson Consulting (now Accenture). Steve has a MDiv from Princeton Theological Seminary, a Masters in Business from Baylor University and is working on his doctorate at Chinese University of Hong Kong.
Date: Saturday, 20 November, 2021
Time: 10.00am - 4.00pm
Venue: Island ECC. 633 King's Road. 10th Floor. Quarry Bay
Cost: $200 (We do not want the cost to be prohibitive to your participation. Please send us an email to apply for a scholarship.)
Due to current restrictions, lunch is not included.
Enquiries: info@faithworkhk2021.com