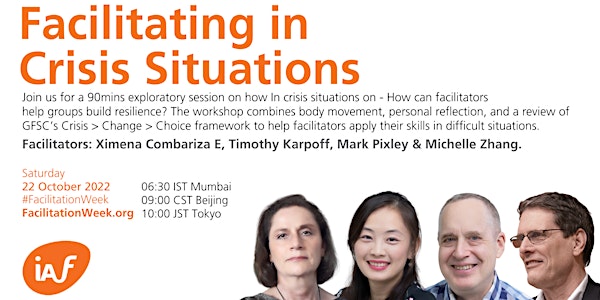 Facilitating in Crisis Situations
Facilitating in Crisis Situations
About this event
In crisis situations, how can facilitators help groups build resilience? This workshop combines body movement, personal reflection, and a review of GFSC's Crisis > Change > Choice framework to help facilitators apply their skills in difficult situations.
Date and time:
22nd October 2022 • 90 minutes
China: 8:00-9:30am
Japan: 9:00-10:30am
21st October – Easter Time NYT 8:00-9:30pm
Language:English
Facilitators:
Ximena Combariza E., founding member of ALFA (Asociacion Latinoamericana de Facilitadores)
Timothy Karpoff, ToP Trainer
Mark Pixley: CPF ToP Trainer
Michelle Zhang: CPF, IAF Mentor
Ximena, Tim and Mark are the GFSC (Global Facilitators Serving Communities) board group.