A 90 min session that focuses on the power of storytelling in training.
About this event
What is one of the elements that all fantastic facilitators have in common? For the most part, they are great storytellers. Think about it – while our participants (and us) might not always remember the numbers/data, they tend to remember the stories that we tell them. They tend to remember how those stories made them feel – inspired/ excited / brave / happy!
With this in mind, we're bringing you FACILITATE WITH STORIES. A 90-minute "mini" program designed with trainers, facilitator, coaches and teachers in mind.
The session objectives are:
Explore the different situations in which you as a facilitator can use storytelling as a powerful tool.
Discover a multitude of storytelling structures for you to keep in mind the next time you'd like to tell a story.
Practice telling short and powerful stories which are aimed at creating an impact (especially in the virtual world).
This session is built to get you to stretch your storytelling muscles and feel more confident about how you can use this facilitation tool in your everyday life.
Who should be attending this session:
Facilitators, trainers, coaches and teachers.
Meet your Facilitator: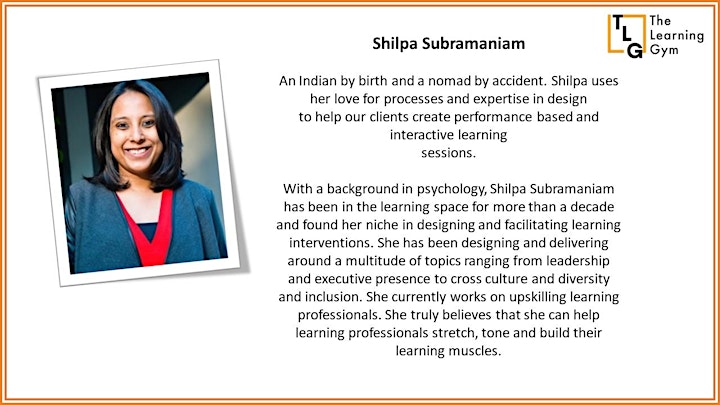 We're running both public/open and in-house sessions so do reach out to us on info@thelearninggym.co
We'll see you online. :)