Eye Level Island West Education Center 西半山薄扶林道分店正式開幕!
About this event
🪅 Eye Level Island West 誠邀您親臨我們新張開放日! 🪅
11月27號舉行新張開放日,一系列趣味特色活動經已準備就緒,作為與各位小朋友的見面禮!
✏️ 體驗 Eye Level 教學遊戲
🎈 🎈 創意迷你氣球公仔
🪅 糖果彩罐 Pinata
🟦🟩 製作及試玩韓國傳統兒童摺紙遊戲打畫片
📸 親子精美佈景打卡位
🟠 通過本頁預先登記,可獲韓國傳統食品椪糖一份(數量有限) 及參加親子椪糖製作工作坊!名額有限,請從速登記!
Eye Level Island West 教育中心
地址:薄扶林道63號地下1號舖 (聖士提反堂幼稚園對面)
電話:9613 7416
Whatsapp: https://wa.me/message/JJOHI2IBJHZ5N1
開放時間 : 星期二至六10:00-19:00
開放日條款及細則
1. 登記開放日以家庭為單位。
2. 每位小朋友必須由至少一位成年人全程陪同出席。
3. 報名時請確保電郵地址及電話號碼為正確有效,成功登記者將於兩小時內收到電郵 確認通知。
4.請於活動當日帶同電郵確認通知之附件,以便核對。
5. 本中心將於活動期間拍攝或錄像作日後宣傳用途,若參加者不同意以上安排,請與本中心聯絡。
6. 本中心將保留更改上述任何條款及細則之最終決定權。
椪糖製作工作坊詳情
1. 登記椪糖製作工作坊以家庭為單位。
2. 名額有限,參加時段先到先得,額滿即止。
3. 製作前準備需時,參加者請於登記時間前10分鐘到達。
4. 為確保參加者可以盡情體驗,每個家庭可為已出席小朋友製作椪糖一塊。
🪅 You are invited to the Eye Level Island West Education Center Open Day! 🪅
Join us on 27 Nov 11am to 4pm for a day filled with fun family friendly activities!
✏️ Immerse yourself in the Eye Level learning experience
🎈 🎈 Mini balloon sculptures
🪅 Pinata
🟦🟩 Traditional Korean children's Ddakji game workshop
📸 Make it a day to remember at our photo booth
🟠 Pre-register through this page to receive a free Dalgona Candy (limited availability) and participate in a Dalgona Candy Making Workshop! Spots are limited, make your reservation NOW!
Eye Level Island West Education Center
Address: Shop 1, G/F, 63 Pok Fu Lam Road, Hong Kong (Opposite Saint Stephen's Church Kindergarten)
Tel: 9613 7416
Whatsapp: https://wa.me/message/JJOHI2IBJHZ5N1
Opening Hours: Tue - Sat 10:00-19:00
Open Day Terms and Conditions
1. Each family should make one registration only.
2. Each child should be accompanied by at least one adult for the entire duration of the event.
3. Please input your correct email and phone number when registering. You will receive a confirmation email within two hours of registering.
4. Please present the pdf file attached to your confirmation email on the day of the Open Day for verification purposes.
5. Our center will be photographing and video recording the event for future promotional purposes, please contact us should you have any queries.
6. In case of dispute, the decision of Eye Level Island West Education Center will shall be final.
Dalgona Candy Workshop Details
1. Each family should make one registration only.
2. Spots are limited and available on a first come first serve basis.
3. Please arrive on location 10min prior to your workshop session start time to ensure ample time to complete the activity.
4. Each family is entitiled to producing one Dalgona Candy for each participating child.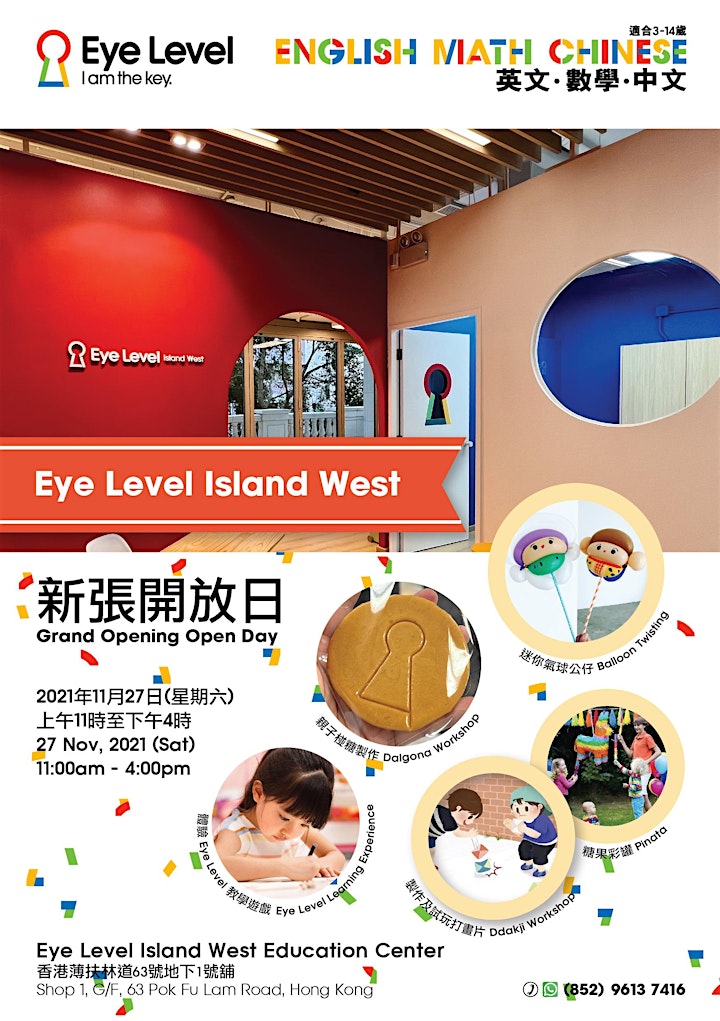 Organizer of Eye Level Island West 西半山薄扶林道 Open Day 開放日