Description
Do you want to know?
Why the departmental performance is great, but the company's profitability is not satisfactory?

Why information is rich, but it is not easy to make decisions?

Why communication is frequent, but the results are unexpected?

Why ERP software is excellent, but inventory is uneasy to manage?

Why planning is established, but the execution deviates?
Are you ready to take the supply chain challenges?
Agenda (English speaking with English course materials)
14:15 to 14:30 – Registration and Networking Activities
14:30 to 14:40 – Backgrounds and Introductions
14:40 to 15:15 – Creating Supply Chain Alignment
Strategic Alignment
Talent Shortage
The scope of Supply Chain Management
Online Supply Chain Simulation demonstration
(Flexible break time)
15:15 to 16:30 – The Online Business Simulation
A Dire Situation
Discuss, Debate, and Make Decisions
Assess Our Results
16:30 to 17:00 – Wrap-up and Key Learning Debriefing Sharing
17:00 to 17:45 – DataDevelop 2019 Student Case Study Competition Overview
Key Takeaways:
You and your team can gain the insight how to increase the Return On Investment (ROI) in a consumer goods supply chain, how to make effective decisions according to right strategy and tactic and how to do the right things with good business results.
Target Audience:
With this supply chain simulation, you as professional will acquire knowledge about:-
Supply Chain Alignment

Management skills

Teamwork
The participants are professional, Managers in Finance, Purchasing, Operation, Supply Chain and Sales who have, directly or indirectly, experience with Supply Chain Management. Even the most experienced Supply Chain Manager will experience this training as inspiring and challenging.
Facilitator: Mr. Henry Soo (Master Instructor of SCOR-p, CSCP, CPIM)
Remarks for APICS certification holders:
You can claim at least 2 professional development points toward maintenance of your CPIM/CFPIM/CSCP/CLTD designation for attending this event.
BUY 1 TO GET 1 FREE FOR C-LEVEL OR DIRECTORS OF YOUR COMPANY
- CALL MS. Annie CHAN at 2312 6038 for this PROMOTIONAL CODE.
Certificate of Completion will be awarded to all participants by the end of the workshop: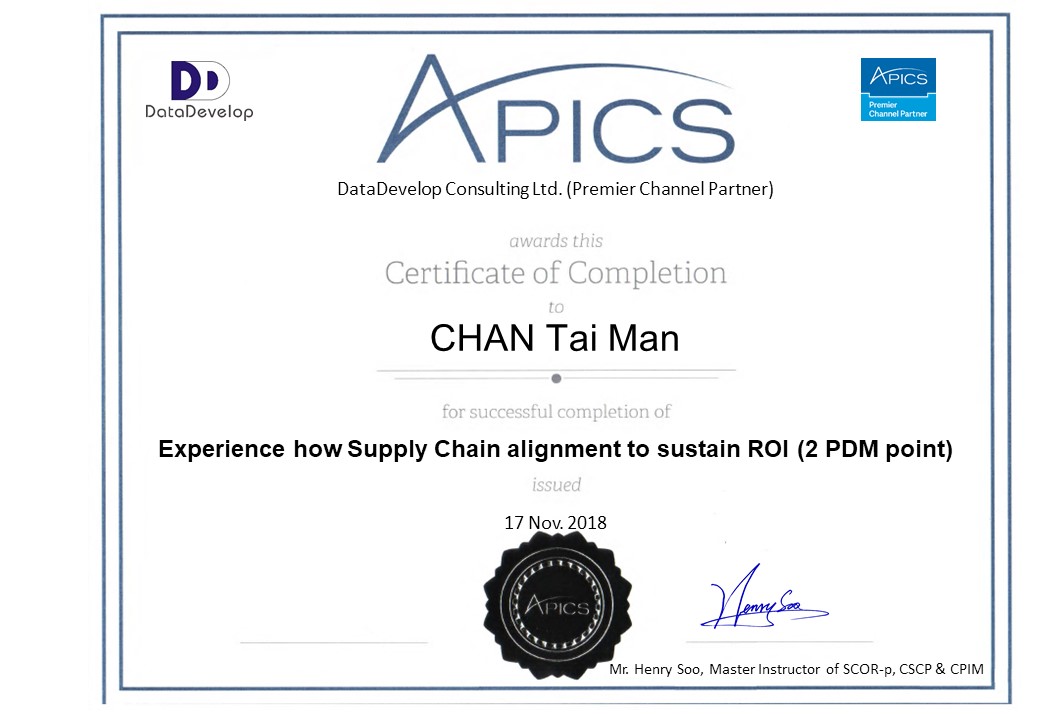 Organiser of Experience how Supply Chain alignment to sustain ROI