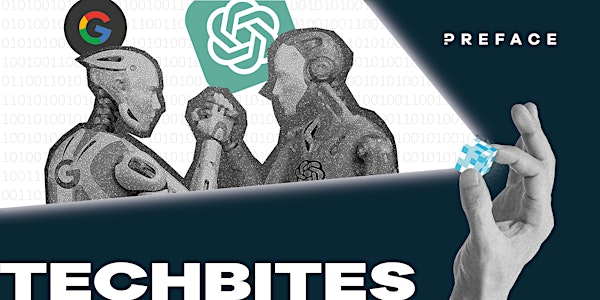 [Exclusive] Preface TechBites
New and innovative way of being up to date with tech. A new experience filled with knowledge and fun for our exclusive coders.
When and where
Date and time
Thu, 9 Mar 2023 19:00 - 20:00 HKT
Location
Preface Coffee & Wine (Causeway Bay) 1/F, The Sharp, 11 Sharp Street East Causeway Bay, HKI Hong Kong
About this event
What is this event for?
Get in the know with the buzziest happenings in tech. What Is ChatGPT and why is it revolutionizing A.I.?
We will be exploring the capabilities of ChatGPT, sharing with you all its potential applications and insights into how it works. Showcasing some of the latest developments in the technology, and hearing from us about our experiences working with ChatGPT. Join other tech-curious members for a thrilling evening of learning, light refreshment and mingling.
Come and join us for a free experience to get up-to-date with the latest and trendiest news in tech. Trade an hour of your time to equip yourself with the latest happenings in the tech world, all delivered in bite-sized and easily digestible chunks of knowledge.
Date and Details:
🗓 Dates: 9 Mar 2023 (Thu)
⏰ Time: 7 - 8 PM
📌 Venue: 1/F Preface Coffee & Wine, The Sharp, 11 Sharp Street East, Causeway Bay
👤 Only available for adults
🌐 Language: Cantonese
About Preface
Preface is an industry-leading EdTech company. By tech-enabling learners of all ages, corporates, and schools around the world with dynamic tech education and experiences, we empower individuals and businesses to thrive in the Web 3.0 era. Over the years, we've collaborated with and provided training for leading academic institutions including MIT, UCLA, LSE, and global MNCs such as Meta, Google, AWS, BlackRock and HSBC.
We offer flexible, dynamic, and efficient tech training for individuals and corporations alike through 1-on-1 or group settings. Driven by AI and machine learning, our courses can be tailor-made to the interests, schedules, and paces of our learners, making learning personalised, enjoyable, and applicable. Find your next big idea, break into a new career field, and seize the biggest opportunities of the future with Preface.
For all course details please visit: https://www.preface.ai
Find us on Social Media!
Instagram: www.instagram.com/preface.ai
Facebook: www.facebook.com/prefaceai
*Please note that Preface reserves the right to use any photographs, videos or audios taken from workshops for marketing or internal use. Should you have any problems, please contact us at hello@preface.education.
About the organiser
About Preface Coding
Preface Coding is an award-winning coding school for learners of all ages and occupations. Our future-oriented programs boast elite educators from MIT, international corporations, as well as global students from London, Tokyo, and Hong Kong.
We provide training in Games & Animations Programming (Scratch & ScratchJr), Mobile App Development (MIT App Inventor), Data Science (Python), as well as Full Stack Programming in 1-on-1 or group settings. Our 1-on-1 courses are fully personalised to the levels and goals of every learner through AI-driven machine learning.