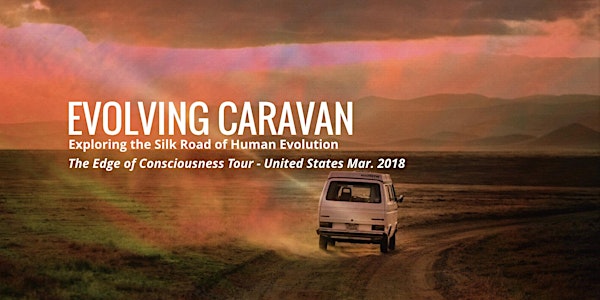 Evolving Caravan: The Edge of Consciousness Tour (New York)
When and where
Location
The Forest House 41-43 Wythe Ave Brooklyn New York, 11211
Refund Policy
Refunds up to 7 days before event
Description
The Evolving Caravan is an ever changing fellowship of seekers traveling the world mapping the nodes of the Silk Road of human evolution. For "The Edge of Consciousness" US Tour this March 2018, we visit individuals & places, explore conscious tech, businesses, organizations, cities, and nations that influence the evolution of individual and collective consciousness.
On the 4th of March, we will spend a day together at the beautiful space provided by our partner The Forest House in Brooklyn. While sharing our findings with each other, we will explore the serendipity of group dynamic emergence among the audience, the speakers and some "special guests".

We will spend the remaining days in New York to visit local companies and groups interested in developing the Urban Monastery project.

Confirmed Speakers
Dr. Gino Yu
Associate Professor at Hong Kong Polytechnic University
Dr. Gino Yu is world renowned for his work in consciousness, discovery, and leadership and guided by his love of the arts.
He has spoken at international events including TED, the Cannes Lion Festival, rAsia, the World Knowledge Forum, the International Music Summit, and the Creative Leadership Summit. For the last several years, he toured Europe and the United States with this workshop on Entrepreneurship, Innovation, and Self Discovery. He has also run transformational workshops for the management at companies such as Zappos and VisualDNA.
Nichol Bradford
Executive Director of the Transformative Technology Lab
Nichol Bradford is fascinated by human potential and technology. She is the CEO of the Willow Group and Executive Director of the Transformative Technology Lab @ Sofia University (TTL). Prior to becoming a leader in Transformative Technology, Bradford was a senior executive in video games with responsibility for strategy, operations and marketing for major brands that include: Activision Blizzard, Disney, and Vivendi Games.

Alexandros Pagidas
Philosopher & Entrepreneur, Founder of Evolving Caravan
Alexandros Pagidas is a philosopher and entrepreneur. He finished his BA in Philosophy at the American College of Greece (Deree) and his MA in Philosophy at the University of Reading. After moving to San Francisco, he co-organized events on evolving ideas into startups hosted by Microsoft and Google, co-founded Patent Safari, a startup that automatically tracked IP online that eventually transformed into a boutique patent firm, was philosopher-in-residence at Silicon Valley startup accelerator Blackbox.vc, and co-founded TheGlint, a multi-disciplinary live-work community in San Francisco dedicated to redesigning heroism.
John Marshall Roberts
Behavioral Scientist & Author
John Marshall Roberts is a behavioral scientist with a focus on creativity and behavior change. An acclaimed communication expert and outspoken advocate for sustainable business, John is founder of Worldview Thinking, a strategic consultancy with a single focus: to help forward-thinking organizations drive change through radical, scientifically-grounded human insight.

Edd Edwards
B.I.R.E. Specialist Bio-Intrinsic Resonant Energy
While Edd cannot make any health claims, Ken Rohla, of Fresh and Alive magazine, believes Edd has a God-given gift for transmitting healing energy remotely to people. Edd's grandmother was a hands-on Christian healer, regarding her gift of healing energy as the Holy Spirit working through her. Edd was born with the gift of this same healing energy, which his grandmother recognized and encouraged in him as a child. Later in his life, Edd was studied by several scientists and universities using double-blind experiments on bio-electric fields, charged density plasma pulses, switching the polarity of his energy, and long distance manipulation of charge density pulse recorders. To date, Edd is currently the most studied human in the field of human bioelectric field studies by major research centers in the United State.
Noah Berman
Intuitive
Noah began developing his intuitive abilities about ten years ago, doing readings only within his inner friend circle. After predicting an explosion in East Harlem in March of 2014, Noah decided to start talking about his gifts more openly and began doing work with private clients one on one as well as workshops. His intention is to facilitate people's awakening so that other's can develop their own sense of inner clarity, purpose and self-actualization.
Please note: All talks and workshops will be conducted in English. There will not be translation services to other languages provided unless otherwise noted in this page. If you consider a donation, as this initiative started from a group of people that lived in Hong Kong, there is a possibility that the Paypal page, given we're using a Hong Kong based company for this venture, will appear in Chinese. If that happens, simply switch to English by pressing the "English" found on the bottom left corner of the page as shown in the screenshot below.