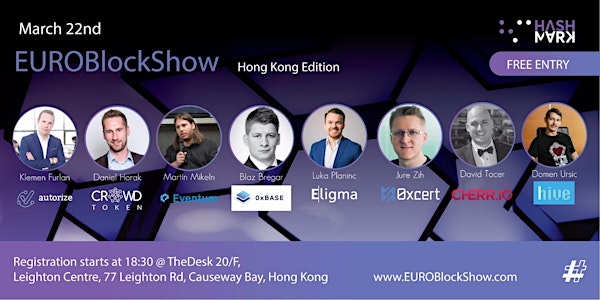 EuroBlockShow Hong Kong (post Token 2049 Conference) powered by LimeBridge
When and where
Location
Thedesk Leighton Centre 20/F Leighton Centre, 77 Leighton Rd, Causeway Bay · Causeway Bay causeway Bay Hong Kong
Description
*Please reserve your spot here: https://www.eventbrite.com/e/euroblockshow-hong-kong-post-token-2049-conference-powered-by-limebridge-tickets-44149048994?aff=meetup
*
LimeBridge is bringing you EuroBlockShow following the esteemed Token 2049 hosted in Hong Kong.
This conference will feature our token projects advised by our partner Niko Klansek but also will include some impressive ones based in Asia. You'll get to listen to the pitches decide which project is the cream of the crop!
Niko Klansek:
Cofounder of www.hashmark.io
Crowdfunding specialist, Kickstarter pioneer and advisor in an early stage investment fund. Niko is a Harvard Business School graduate and experienced entrepreneur. He founded multiple companies and helped hundreds of others succeed.
Let the pitch party begin.
Date: 22nd March
Time: 18h - 22h
Location: The Desk co-working & event space.
Schedule:
18:30 - 19:00 - Registration
19:00 - 19:05 - Intro
19:05 - 20:05 - ICO presentations
20:05 - 20:25 - Panel & Q&A
20:25 - 20:40 - Break (Audience will vote on their favorite ICO Project)
20:40 - 21:00 - Blockchain Project Success Story presentation
21:00 - 21:20 - Panel & Q&A
21:20 - 22:00 - Networking
ICO:
1. Eventum - Decentralized real-world data feeds
https://eventum.network
2. Autorize - A decentralized blockchain-based sharing economy protocol for movable goods.
https://autorize.io
3. Eligma - AI-driven and blockchain-based cognitive
commerce platform
https://www.eligma.io
4. 0xCert - an open source, permissionless protocol for validating the existence, authenticity and ownership of digital assets on the blockchain
https://0xcert.org
5. 0xBase - First mobile dApp infrastructure for the devices of today and the token economies of tomorrow
https://0xbase.com
6. Cherr.io - Blockchain solution for charitable donations
https://www.cherr.io
7. Conda - Professionalizing the alternative financing market by enabling
a secure infrastructure for company investments on the blockchain
https://ico.conda.online
Successful Blockchain Project
Hive Project - A blockchain based platform providing you fast and low-cost liquidity.
CoinAGENDA Global: BEST ICO 2017 WINNER
https://www.hive-project.net