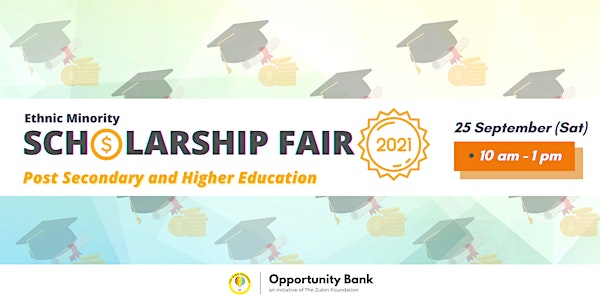 Ethnic Minority Scholarship Fair 2021 (Post-Secondary)
Fair aiming to give ethnic minorities access to scholarship opportunities and raise awareness of the needs of ethnic minorities in HK.
When and where
Location
Yau Tsim Mong Multicultural Activity Centre 59 Battery Street Hong Kong, KOW Hong Kong
About this event
【 Scholarship Fair x $50 Supermarket Coupon 】
"Knowledge is power" - a better education is the key to a better quality of life for both the children and their families. However, due to cultural, family and other factors, ethnic minority children in Hong Kong may not have the confidence in themselves in pursuing further studies.
Ethnic Minority Post-Secondary Scholarship Fair 
The Scholarship Fair is organised in order to bring together the various tertiary and university education scholarship schemes available under one roof, giving you easy access. 
Free gifts will be given to every participant  |  Free entry  |  This is an event you must not miss! 
Register Now!
Event Details
Date: 25 September (Saturday)
Time: 10 am – 12.30 pm
Address: To be announced
Event Format: Short Pitch | Fair | Cafe Conversation
Target Audience: EM Parents, EM Secondary Students, Career Advising Teachers
Exhibitors: Post-Secondary and higher education institutions and scholarship providers
Free admission 
Free gifts
About Opportunity Bank
Opportunity Bank, an initiative of The Zubin Foundation, connects ethnic minorities with various resources such as scholarships, jobs, training in a one-stop, easy to access platform. Through a collaboration model with different service providers: corporates/SMEs, funders, schools, etc., the customer-focused platform seeks to push for greater transparency and accessibility to information, better allocation of resources, identifying service gaps and improvement in excellence. The overall objective of this initiative is to empower and support the ethnic minority community by: Enhancing employment and education | Providing training and health opportunities | Reducing poverty | Improving upward mobility | Creating a more harmonious society
Webpage: https://www.zubinfoundation.org/opportunitybank | Tel: 9133-4700 | Email: oppbank@zubinfoundation.org