About this Event
Come and talk to corporate representatives from various fields, and understand industry developments, and gain trustful friendships!
Ethnic minority youth are often unaware of the many opportunities around them. This Networking Event aims to help EM youth expand their networking circle, develop networking skills and help them recognise the various paths available to them.
Opportunity Bank
Ethnic Minority Networking Event
The Networking Event brings together EM tertiary education students and young professionals with corporate representatives under one roof, providing a platform for networking and to foster more interaction between EMs and employers.
Target Audience
Tertiary Education EM Students
Young EM Professionals (aged 18-35)
Corporate Representatives
Details
With special thanks to EY for hosting this first networking event, below are the details:
Theme: DARE TO DREAM
17 September 2019 (Tuesday)
6.30 - 8.30 pm (Registration starts at 6.15 pm)
Canapés and alcohol-free drinks will be served
Programme Rundown
6.15 - 6.30 pm: Registration
6.30 - 6.40 pm: Welcome Remarks
6.40 - 7 pm: Inspirational Speakers Sharing
7 - 7.30 pm: Structured Networking Activity
7.30 - 8.30 pm: Informal Networking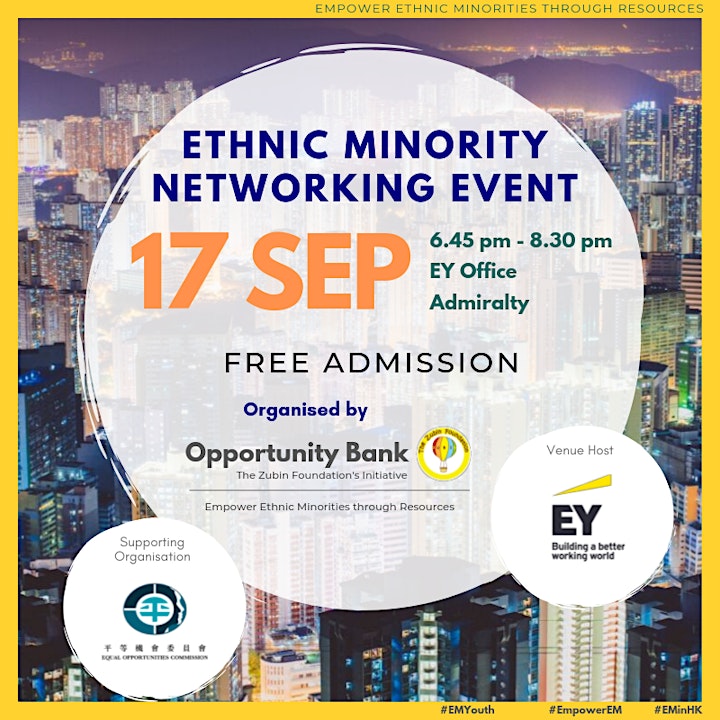 About Opportunity Bank
Opportunity Bank, an initiative of The Zubin Foundation, connects ethnic minorities with various resources such as scholarships, jobs, training in a one-stop, easy to access platform. Through a collaboration model with different service providers: corporates/SMEs, funders, schools, etc., the customer-focused platform seeks to push for greater transparency and accessibility to information, better allocation of resources, identifying service gaps and improvement in excellence. The overall objective of this initiative is to empower and support the ethnic minority community by: Enhancing employment and education | Providing training and health opportunities | Reducing poverty | Improving upward mobility | Creating a more harmonious society
Webpage: https://www.zubinfoundation.org/opportunitybank | Tel: 9133-4700 | Email: oppbank@zubinfoundation.org