Location
Q9 Crypto Hub
G/F 9 Queen's Road
Central
hong kong, HKI
Hong Kong
Meet the Artists behind 'Ethereal Realism', Q9 Crypto Hub's latest NFT exhibition organised in collaboration with Voxoglass.
About this event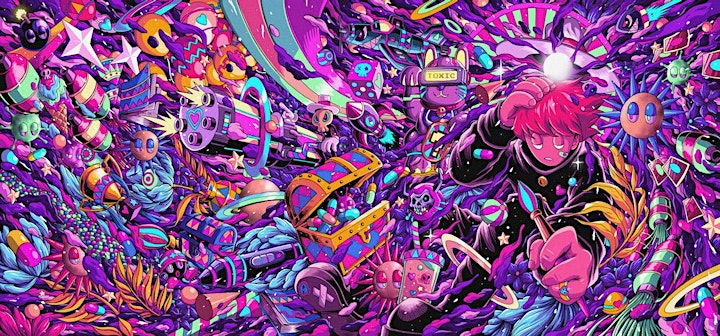 Ethereal Realism is a physical showcase of Non-Fungible Tokens ('NFTs') featuring Voxoglass's roster of Hong Kong and Asia-based artists. Taking place at the Q9 Crypto Hub, the exhibition runs from 4 May to 31 May 2022, and features unique NFTs artworks from Nicholas MF, Wong Sing Hoi, IPUTSA, and Jeff Aphisit.
Ethereal Realism treads the fine line between reality and fantasy, or perhaps more appropriately, utopia and dystopia. Offering a fascinating and insightful perspective for all visitors, the exhibition promises to question existing notions.
We are pleased to organise two Artist Talks on Wednesday, 18 May, and Wednesday, 25 May, for the public to meet Nicholas MF and Wong Sing Hoi, who will introduce their artworks and share more about their journey in the world of the NFTs.
This event is open to the public but Q9 Crypto Hub's capacity is limited. Book your tickets now to secure your seat.
Artist talks' Schedule
18 May: 5:30PM: Special introduction by the Artists
18 May: 6:15PM: Special introduction by the Artists
25 May: 5:30PM: Special introduction by the Artists
25 May: 6:15PM: Special introduction by the Artists
Ethereal Realism Exhibition
4 May - 31 May: Exhibition & 30-min Private Tours (book here)

Important information
Visits are by timed entry, and registration can be done via this page. Walk-ins are welcome, but subject to availability.
For the safety of all, the Q9 Crypto Hub is disinfected at regular intervals, and face masks are required at all times.
ABOUT Q9 CRYPTO HUB
Q9 Crypto Hub is Hong Kong's premier cryptocurrency and NFT hub where both industry experts and digital asset newcomers can join our community, learn, network, and become involved in the exciting world of cryptocurrencies. Our team regularly hosts events focusing on education and community outreach with a focus on Bitcoin adoption, blockchain technology, and everything crypto. Q9's curated gallery space exhibits and sells digital works from renowned and upcoming local and international artists.
Contact Q9 Crypto Hub:
Ines Laimins (ines.laimins@q9capital.com)
ABOUT Q9 CAPITAL
Q9 Capital is a full-service crypto investment platform for individuals and institutions. We combine innovative products and personalised services to deliver a simple and safe solution for crypto investing. Our best-in-class products, performance analytics, and systematic investment offerings provide investors with the tools they need to accumulate assets, maximise returns and generate income from their crypto investments.
Contact Q9 Capital:
James Lindsay (james.lindsay@q9capital.com)
ABOUT VOXOGLASS
Standing boldly in the heart of Hong Kong, Voxoglass will be the first all-digital gallery of its kind in Asia. In Q3 2022, Causeway Bay will transform into a hub for digital art, artists and admirers.Our four-storey, glass-box complex will indulge visitors in a sensory experience like no other, seamlessly fusing sights, sounds and tastes as guests roam our carefully curated rooms, browsing and hearing a symphony of NFTs by some of the leading creators out there. Voxoglass also actively invests in NFTs and promotes promising projects and talented creators by showcasing their work to the busiest retail district of Hong Kong.
Contact Voxoglass:
Harry Webster (harry.webster@voxoglass.com)