A perfect and thoughtful gift for your lover, friend, and family. Let them take your exclusive scent to everywhere they go. Just you two!
About this event
Natural Perfume Making Workshop offered by Jodie Chan, an aromatherapist and a scent creator who founded "Esscentric", a trendy brand which stands for 100% Natural Perfume from Essential Oils in Hong Kong.
This is an introductory class for those who are interested in making your own scents but with little or no knowledge in essential oil and perfume. Upon completing the workshop, you will be able to blend your own favorite oils at home. Come create your unique scents with Jodie!
Content:
- What Essential Oils are
- The uniqueness of using essential oils for making perfume
- Natural perfume VS Artificial perfume
- Introduction of 10 kinds of essential oil
- How to blend your own perfume oil
- DIY session
What you will bring home:
- 1pc 6ml roll on perfume oil
What will you learn:
- How to create perfume oil
- How to identify essential oil
- How to blended to ensure a long-lasting balance of scent
DETAILS
Length of Class: 3 Hours
Venue: Room A, 16/F, Yiuga Factory Building, 62 Victoria Road, Kennedy Town (Please Enter From Sai Ning Street)
JOIN WITH YOUR HELPER?
With just +100HKD, you can bring along your helper. Please inform us once you confirmed your booking, arrangements can be made accordingly.
CLASS CANCELLATION POLICY
We will confirm your seat(s) once all fees are received. Deadline for any cancellation or changes(eg. rescheduling) is 7 days prior to the scheduled date of the event. All fees will become non-refundable after the deadline. Cancellation requests should be made in writing at least 7 days prior to the class for any refund to be processed.
*The policy applies to sign-ups within the 7-day period before the scheduled event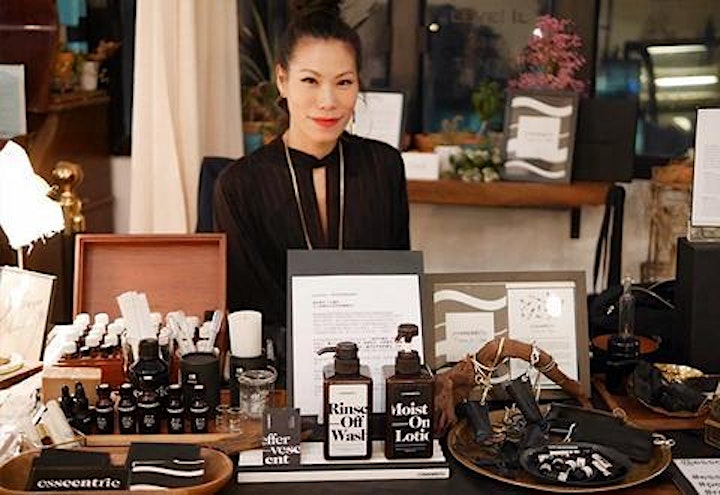 ABOUT ESSCENTRIC
Born and bred in Hong Kong, Esscentric is a wellbeing and parfumerie brand. A labour of love by professional aromatherapist Jodie Chan, the perfume house sets out to create bespoke blends that celebrate eccentricity, audacity, and wellbeing on physical, mental and spiritual levels.
Esscentric's products stems out from the staple essential oil perfumes, bath & body series, home fragrances, skincare and travel essentials, and the list will go on. Coming in bold, edgy designs and no-nonsense formulas, the brand stays true to its rule-of-thumb principle: using solely 100% pure essential oil and mostly natural ingredients in all products.
Jodie Chan, is also known as an aromatherapist (*** Holistic aromatherapist with a qualification that is recognized worldwide, is accredited by and affiliated with 3 international governing bodies for aromatherapy, including IFPA (ENGLAND), NAHA (USA) AND NZROHA (NEW ZEALAND), usui reiki master, Bach Flower Remedies registered practitioner, and barre instructor. None of these identities were mapped out in Jodie's life plan, but coincidentally they are all products of her passion, intuition, and eccentricity. An embodiment of grace and spiritual awakening herself, Jodie is a living proof of well-being and the healing powers of her eclectic scents.