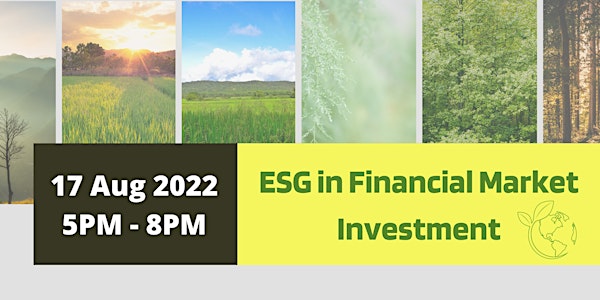 ESG in Financial Market and Investment Seminar
ESG in Financial Market and Investment Seminar
When and where
Location
2/F, Bonham Centre 79-85 Bonham Strand Sheung Wan, HKI Hong Kong
About this event
As Sustainability and ESG have become a business imperative, the financial services sector is adopting the lead. Understanding the need for action on environmental, social and governance (ESG) issues and exploring the unique challenges, opportunities, and responsibilities of the financial services industry are unavoidable.
.Guest Speaker: Dr. William Yu (Founder and CEO, World Green Organisation)
.Date: 17 Aug (Wed)
.Venue: Bonham Centre 79-85 Bonham Strand 2/F Sheung Wan, HK (In person)
.Time: 5:00-8:00PM
.Fee: Free
.REGISTRATION: A limited quota with 30 participants will be offered on a first-come first-served basis.
REGISTRATION LINK: https://forms.gle/CS3tNM39W5dDpndx8