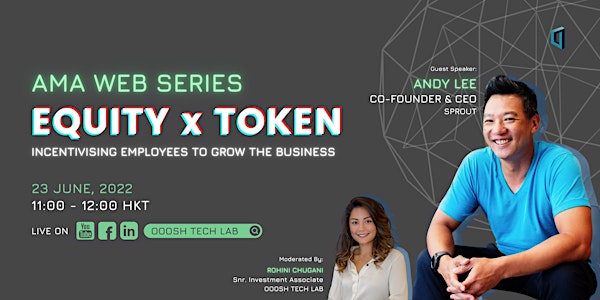 Equity x Token - Incentivising Employees to Grow The Business
Equity x Token - Incentivising Employees to Grow The Business
About this event
For our next live AMA session, we will be covering employee compensation via equities or tokens, including the best practices involved in deploying and managing employee stock options (ESOP) or tokens (ETOP), important overlooked considerations, and taxation implications.
Please join in our discussion and type any questions you may have for Andy in the comments box. Stay tuned until the end of the session where we will be offering viewers who fill in our form a 30-minute consultation with Andy's Sprout team.
Speaker Bio
Andy Lee is a ex-banker, VC advisor, and media director at Fox News and NBA China, as well as Director of Business and Corporate Development in APAC for Uber, Kabam and Mapbox. He has spent 20 years in China working with entrepreneurs and executives at all stages of development, providing strategic insights and mentorship. Andy also founded Sprout in 2019 – a software to help startups manage their cap table, ESOP and ETOP allocation and investor management, designed for markets outside of the US. He's also a mentor within our Ooosh Tech Lab network.
"I founded Sprout in 2019 to provide a service that I couldn't find when I was working in early stage companies – cap table, ESOP and investor management software designed for markets outside of the US. I personally oversee all of the work we do at Sprout to ensure we provide founders with the tools they need to fundraise, grow and retain their employees and manage all their stakeholders. As any successful entrepreneur can tell you, success depends on more than simply having a good product/service offering. Your ability to raise money and manage investors and dilution could also make or break you. I'm inspired by the stories told by the entrepreneurs I work with on a daily basis. It's my passion to help businesses with great potential to focus their internal resources on what they do best -- so they can scale and succeed."
Who is this for?
Early-stage Entrepreneurs
About Ooosh Tech Lab
Ooosh Tech Lab is an Integrated Venture Capital firm focused on empowering and de-risking scalable, disruptive startups across South East Asia. Ooosh Tech Lab offers a wide range of services to the startup ecosystem, including an investment fund, an incubator, co-working spaces, investment banking services, and growth marketing consulting. As a team, they have served over 189 local & international companies, including Tech Unicorns & MNCs.
To learn more about how we help startups, visit: https://direct.me/oooshtechlab.