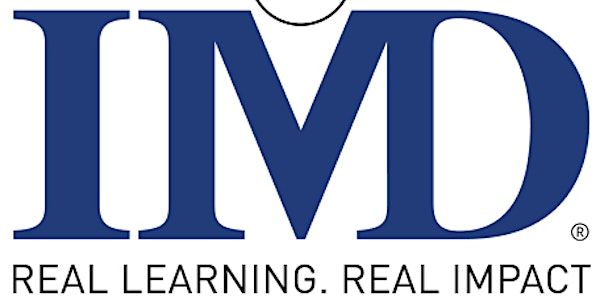 Entrepreneurship and Technology Transfer for Effective Innovation
When and where
Location
Dot Cod 14 Chater Road Hong Kong Island Hong Kong
Description
Dear IMD Alumni and guests,
We would like to invite you all to join us for a breakfast meeting with Dr. Georges Haour from IMD on June 21, 2018.
Entrepreneurship and technology transfer for effective innovation
In firms, innovation may be defined as "something novel aimed at a success in the marketplace". It is an element of competiveness. Most innovations constitute small improvements of existing offerings. Others are radical; for example, a new, effective, drug against cancer, or solid state LED-light emitting diodes. The latter ones tend to have a large economic impact, but astute, customer-oriented, small improvements often create much value. Chinese entrepreneurs are remarkably effective in this area.
Innovations may well not involve any technical aspect. An example is self-service, which revolutionised the retail industry, without involving anything technical. The Sony "walkman" was a brilliant product innovation, which did not involve much technical advance. The digital tsunami impacts all areas of activities, so that leveraging information technologies constitutes a key challenge in our time.
Crucially, entrepreneurial spirit provides the vector to get the innovative offering to market. It usually requires effective technology transfer; this process of going from science to business is most arduous (*).
This workshop highlights the ingredients required to innovate effectively. China, will soon be a crucial source of innovations for the world, according to a recent book by the author (**). The case of China will be contrasted with that of Europe, where, Switzerland is ranked as the world's best in innovation and technology/knowledge transfer (*).
(*) From Science to business, Georges Haour & Laurent Miéville (Palgrave, London, 2011; www.sciencetobusiness.ch)
(**) Created in China (Bloomsbury, London , 2016), now available in Chinese (CITIC Publishing, Beijing, 2017)
Georges Haour is Professor of innovation management at the executive education institute IMD, in Switzerland. He is associated with the "business accelerator" Xnode, in Shanghai. For years, he worked with Scientific Generics (now Sagentia), an incubator in Cambridge, UK. He helped launch the British Telecom's incubator "Brightstar", in Ipswich, UK. He frequently works with startups, in the Geneva-Lausanne area, Cambridge, UK, as well as Paris and Shanghai.
He acts as an adviser to companies, using his "innovation journey" approach, in order to foster innovation-led growth. He also advises on effective technology transfer & commercialisation. His work on China led him to join a European Union project, on the digital tsunami, on 5G/IoT, involving Japanese and European firms.
Georges, born and raised in Lyon, France, holds French and Swiss passports. He obtained a PhD in Chemistry & Materials Science from the University of Toronto, Canada. Then, he worked with Marshall McLuhan. He was with Bell Labs, Murray Hill, N.J., then joined the innovation & tech. transfer firm Battelle, in Geneva, becoming manager of a 35 staff business unit. Companies funded the development of innovations carried out in his unit. He licensed several of his eight granted patents to firms, such as Hitachi, in order for them to launch new activities.
He has published numerous articles and five books. After "Resolving the Innovation Paradox" on his experience of effectively managing innovation, came "From Science to Business" (www.fromsciencetobusiness.ch) on technology and knowledge transfer. Both books are with Palgrave, London. His latest book is on innovation in China. Titled "Created in China - how China is becoming a global innovator", it has been published by Bloomsbury (London, 2016), and in Chinese by CITIC Publishing (Beijing, 2017).
Please register by Thursday, June 14, 2018. Partners and friends are welcome if seating permits. Registration will be on a first-come first-reserved basis with priority given to alumni. Please contact our club at hong­_kong@alumni.imd.org, if you have any problems with registration.
Event details:
Date: Thursday, June 21,2018
Venue: Dot Cod Seafood Restaurant and Oyster Bar
Address: Basement, The Landmark Prince,
10 Chater Road, Central, Hong Kong.
Fee: $320 (includes breakfast and drinks):
Registration: please register and pay online at https://www.eventbrite.hk/e/entrepreneurship-and-technology-transfer-for-effective-innovation-tickets-46874537002
Event Program:
8:15 - 8:30 Registration
8:30 - 9:15 Talk by Professor Georges Haour
9:15 - 10:00 Q & A, Networking, and Breakfast