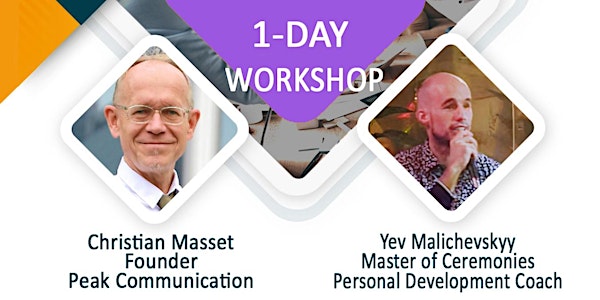 Entrepreneurs, Have you Felt Uncomfortable Speaking in front of a Crowd ?
A 1-Day Workshop for entrepreneurs and freelancers
When and where
Location
LACS Alcantara Rocha do Conde de Óbidos 4, Lisboa 1200-690 Lisboa Portugal
About this event
Communication Toolbox for Entrepreneurs, Leaders and Content Creators
Investing in yourself is your "all time" best investment.
This 1-day workshop is designed for entrepreneurs regardless of the industry, tech or no-tech.
We will cover :
- Why Public speaking is such a big deal
- Overcoming the fear of public speaking
- How to speak to people so that they listen carefully
- How to never be destabilized in public
- How to end a speech
- Using storytelling to promote your business
- Developing skills for impromptu speeches
- The best networking practice
- How to become a magnetic speaker
and more...
Normal offer : 200 Euros
About the trainers :
Yev Malichevskyy
Yev, has a long experience in event organization. He is an Improve Theatre Facilitator, a Master of Ceremonies and an Open Mic Host. He is well know in the Lisbon community of public speakers and coaches.
Christian Masset
Christian is the founder of Peak Communication that he started in Hong Kong in 2012. He has developed a program of public speaking for entrepreneurs and trained over 200 executives and university students in Asia and Europe across different industries including Fintech, engineering and other services.
Peak Communication is about giving a voice to your vision whatever the format used, to small or large audiences, through the media or conferences with simplicity and clarity.
For your information several Discovery Events will take place in soon, in case of overbooking you will be immediately informed of the next event or be refunded.