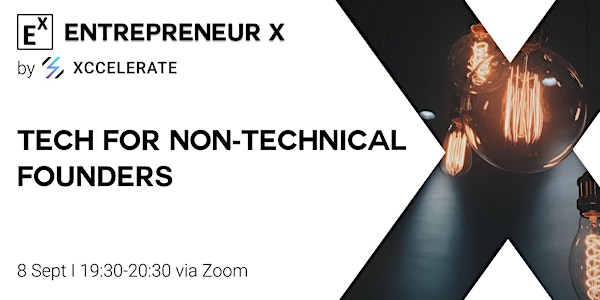 Entrepreneur X Fireside Chat Series: Tech for non-technical founders
Turning your ideas into reality is challenging. It is even more so if you come from non-technical background. Find out what you need here.
About this event
What's the minimum piece of technology you need?
Hong Kong is a land where opportunities connect, filled with entrepreneurs' visions, full of great achievements. Yet, while ideas are plenty, tech talent are scarce in Hong Kong. The current uncertain situation also leads to concrete questions when it comes to build-up a tech company.
In this fireside chat, we will discuss:
How to kickstart an idea
How can I start a company without technical skills
What should I need to know to build-up my plans
What's the minimum piece of information I need?
We are pleased to have Tom Corbin (RH Software CTO and full-stack software engineer) & Kevin Cho (Founding Team at Flexlane - AI-driven wholesale marketplace) to share their entrepreneurial experiences to answer these questions.
With Entrepreneur X, you will find a genuine community that will truly enable you to start building your company, even during the current period of time.
During the event, you will get the chance to collaborate and exchange with potential industry partners. It will be a great opportunity to learn from Entrepreneurs and share your concerns and knowledge.
Language: English
Venue: ZOOM
Fee: FREE of charge
About Entrepreneur X: Turning your ideas into reality is a great challenge. Technology, funding, networks... All of these are hard to gain for a person with a great idea.
Entrepreneur X is a new community for technical and non-technical founders, both aspiring and established, creating a genuine support network of ideas, exchanges and resource sharing. We set no barriers to entry as long as you have the passion to become an entrepreneur. We are here to help make your dreams come true.
Speakers