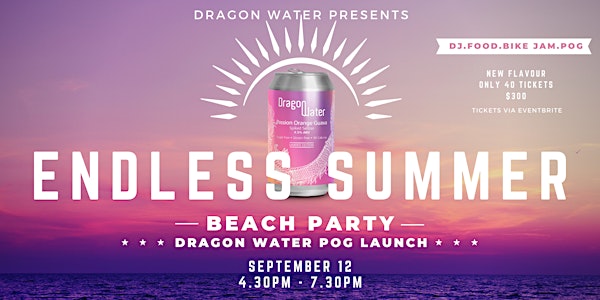 Endless Summer Dragon Water Beach Party 《瀧露無盡之夏沙灘派對》
Overdue for a tropical trip? Fall into our latest Dragon Event and join us for an Endless Summer sunset beach party. 《瀧露無盡之夏沙灘派對》
When and where
Location
Lantau Grocer Lantau Grocer Frankies Cheung Sha, NT Hong Kong
About this event
Overdue for a tropical trip? Fall into our latest Dragon Event and join us for an Endless Summer sunset beach party to celebrate the launch of our latest limited edition Dragon Water: POG. A Polynesian blend of Passion fruit, Orange and Guava.
Hit Lower Cheung Sha beach for our POG pop-up beach bar, an Hawaiian-style BBQ and feast, and sunset beats by DJ Mr Flakey.
If you want to work for your apero, take part in our Bike Jam: a timed challenge for our mountain biking fans, kicking off in Mui Wo, ending at Lower Cheung Sha beach. Prizes for the fastest social rider.
Be amongst the first to get a taste of this ode to Hawaiian beach culture and remember what it was like to island hop, all in one salty event.
Bike Jam Participants: Register in Mui Wo at 3pm for 3.30pm timed kick off
Endless Summer Beach Party: From 4.30pm. You get in your POG pack: 2 x POG from the POG pop-up bar, Hawaiian-style BBQ and feast, sunset beats.
This is part of a weekend program of activities in Hong Kong launching POG.
Dragon Water Spiked Seltzer POG / Limited Edition
Lei-ered with a Polynesian blend of PASSION FRUIT, ORANGE, and GUAVA, Dragon Water's gluten-free alcohol base and natural flavors provide an epic way to unwind after a day in the surf. Ready to drink as is, or pair with a beach break and sandy bottom for a long ride that will have you saying Aloha POG!
Feeling: Laid-Back
Location: Polynesia
Activity: Surfing
**This is a COVID-Conscious event. Our attendees health and safety is paramount. Please check in using the LeaveHomeSafe App; wear your masks and maintain social distancing according to the governments most recent requirements. We will be providing hand sanitiser throughout the venue .
號外!非比尋常嘅《瀧露無盡之夏沙灘派對》快將揭幕,你準備好未?
活動簡介
瀧露出新口味梗係要大大聲話比所有人知,所以我哋決定將夏威夷風情帶到下長沙海灘!呢隻期間限定嘅瀧露POG口味,結合咗熱情果、香橙同番石榴,充滿夏威夷風情,你唔試唔得!
派對現場除咗會有POG快閃沙灘酒吧,供應最新瀧露POG口味比你開懷暢飲,仲有夏威夷燒烤、同DJ Mr Flakey現場主理音樂,實行將燦爛嘅盛夏無限延續!
坐唔定、車癮發作?參加我哋嘅Bike Jam啦!同其他越野單車發燒友一齊由梅窩出發,最快踩到下長沙海灘仲有特別獎勵添!
快啲加入我哋嘅一份子,率先嚟下長沙試飲瀧露POG口味、感受一下夏威夷嘅沙灘文化啦!
Bike Jam參加者:下午3時起於梅窩報名,3時半出發
《瀧露無盡之夏沙灘派對》:下午4時半開始,參加者可以到POG快閃沙灘吧領取兩罐瀧露POG口味、享用夏威夷燒烤美食!
瀧露POG熱情果香橙番石榴味汽酒 / 限量版
將熱情果、香橙與番石榴鮮果味加入無麩質瀧露天然汽酒,充滿夏威夷風情的夏日派對一觸即發!無論出海乘風破浪抑或於沙灘上享受日光浴,暢飲瀧露POG後的你都不禁大叫一聲Aloha!
感覺:悠閒
目的地:玻里尼西亞
活動:衝浪
**疫情注意事項:舉辦單位非常著重參加者的安全與健康,因此所有參加者必需使用「安心出行」應用程式;參加者必需佩戴口罩、保持社交距離,及遵守政府公佈之防疫指示。舉辦單位將於場地提供消毒潔手液。