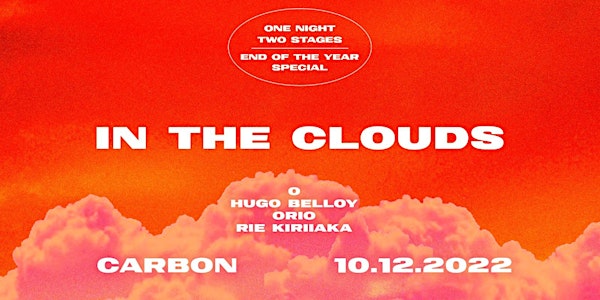 END OF THE YEAR SPECIAL: IN THE CLOUDS
IN THE CLOUDS | CARBON | 10.12.2022
When and where
Location
Carbon Hong Kong 26/F, High Block, HCode 45 Pottinger St, Central Hong Kong, HKI Hong Kong
Refund Policy
Contact the organiser to request a refund.
About this event
End of the Year Special made to join all the wondering hearts together for an extended celebration. One night and two stages will unite the driving power of Hong Kong night vibes: quality crowd, excellent sound system and dope music - all the things we love.
ABOVE CLOUDS:
18:00 - 20:00 O
20:00 - 22:00 HUGO BELLOY
BELOW CLOUDS:
22:00 - 00:00 ORIO
00:00 - 03:00 RIE KIRIIAKA
A special music journey for the occasion provided by:
O
A newbie to the music scene in Hong Kong, she has quickly become an essential vibe lifter for every party.
You'll find her at underground events, supplying vitamin C to the dance floor. With her contagious smile, she curates her sets with care bringing together humans who dare.
Within her Armenian, Spanish and Swiss roots, Marina breathes music as a language to express unity. Her upbeat style embarks you on a journey of deep house, indie drive, melodic, ethnic, and tech.
The vibe she emanates fuses everyone's energy with one motive: dive in.
HUGO BELLOY
French by origin but deeply international at heart, Hugo has been leading Hong Kong festive experiences and carved his own path. By imagining and producing parties since his very young age, Belloy naturally became the captain of happiness for his tribe. A real energy driver, his sets are elegant, cheeky yet powerful. He combines house, minimal and techno while always keeping groovy curved balls in his back pocket. Discover his world, a music planet that exhales groove, warmth, rhythm and a lot of love. Expert in festive experience design and deep passionate about the world of the arts, Hugo devotes his life to enhancing the world's beauty by creating experiences that matter. To him, a party is an art and no-one is left behind.
ORIO
Founder and Artistic Director of Fat Fish Familia, Orio Leshem originally from the homeland of Israel is known to host outrageous one-of-a-kind events that contribute to the life of a strong growing music culture throughout Singapore & Tel Aviv.
Orio's character is displayed through his choice of music and inevitably fills the room on any occasion with light and joy through the likes of his surrealist vision.
Over the years he has successfully created an array of event lineups that have included international top acts such as Louie Vega, Soul Clap, Jayda G, WOLF + LAMB, Eli Escobar, Jamie 3:26 and many more.
His Cosmic Dub remix for "Only You" by Life On Planet, was signed at Soul Clap Records in 2020. His EP "Lost Dog" was released with Soul Clap Records in 2022, Supported by Chrissy, Crazy P, DoP, Horse Meat Disco, DJ Sabo and more. Orio is also a resident on Soul Clap's radio show, serving funky beats monthly.
RIE KIRIIAKA
Rie started her music path back in 2016 in Hong Kong. Coming from Kyiv's underground music scene she kept those origins.
After liting up on multiple stages in Hong Kong, Rie relocated to European ones, including Fabric London and Diego Athens, as well as taking residency at W Costa Navarino in Greece. End of the Year Special is a short-time comeback and a tribute to the roots, a message of love to an extended Hong Kong family.