Description
Vilafonté - South Africa's Superstar:
This ground-breaking wine project was founded by a well-respected group of 'quality driven' wine specialists from South Africa and the United States (former Opus One winemaker), Mike Ratcliffe (MD from Warwick) and Dr Phillip Freese (designed and planted the first Opus One vineyards), partnered up with the ambition to produce the best Bordeaux-style wine from South Africa.
---


Menu:
APERITIVO
Warwick Sauvignon Blanc, Stellenbosch, South Africa 2016
Golden Leaf deluxe appetizers combination
(i)Deep-fried diced bean curd,
(ii)Sautéed diced beef with spicy salt,
(iii)Crispy shredded eggplant tossed with pork floss,
(iv)Barbecued suckling pig
Vilafonte, Series M 2015 (JS:94)

Pan-fried black cod in soya sauce
Vilafonte, Series M 2012 (WS:93)

Roasted Crispy Chicken
Vilafonte, Series M 2010 (WA:90; WS:91)
Sautéed sliced Angus beef with green
Vilafonte, Series C 2012 (WA:94)
Vilafonte, Series C 2014 (WA:94; JS:94; WS:90)

Fried Rice "Yeung Chow" Style with Preserved Vegetables

Chilled Sago with fresh Grapefruit and Mango
---
Date: 13th NOV 2018, TUE
Time: 7:30pm Welcome Drink; 8:00pm Wine Dinner
Price: HK $900+10%
Special Guest: Mike Ratcliffe (Co-founder of the winery)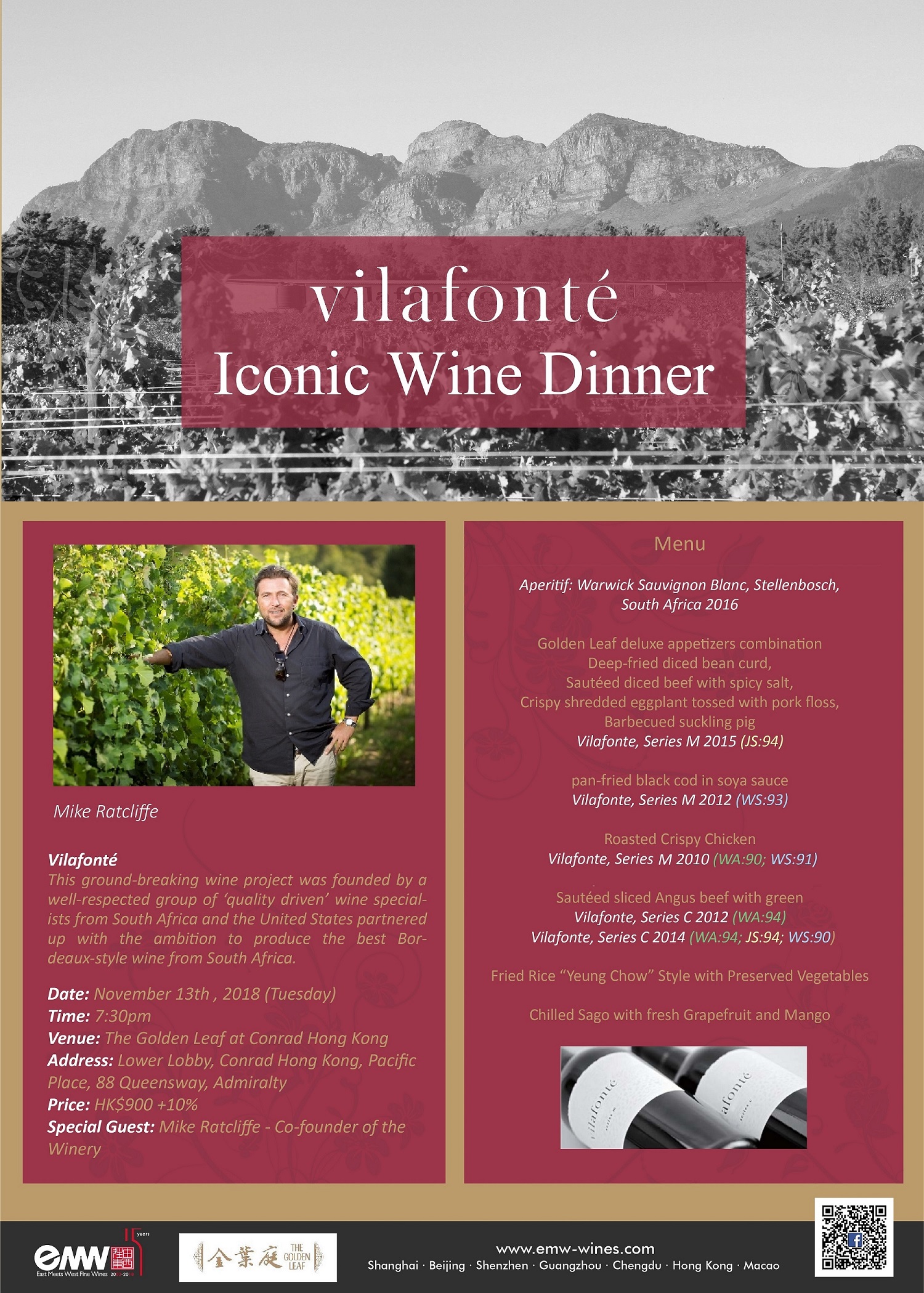 Organiser of EMW fine wines x Vilafonté Iconic Wine Dinner on 13th Nov 2018 (TUE)
EMW Fine Wines specializes in family owned wineries, boutique and premium wineries from the most prominent wine regions worldwide. We are now exclusively distributing more than 800 labels from 14 different countries to luxury hotels, gastronomic restaurants, specialized wine shops, high-end retail chain and private customers all over China and Hong Kong.