Multiple Dates
Emerging Design Talents 2021: Design for Humanity
年度設計展 Emerging Design Talents 2021: Design for Humanity
About this event
The annual design show of the Hong Kong Design Institute (HKDI) and the Hong Kong Institute of Vocational Education (IVE) (Lee Wai Lee), Emerging Design Talents 2021: Design for Humanity, will run from 10 to 20 June 2021. With Design for Humanity as the theme of the event this year, we will illustrate how design, people and environment can coexist to bring out positive energy and happiness to us. The event will offer a platform for our young and talented designers to showcase their innovative thinking and creative flair. A series of large scale design shows and exhibitions will be held in our campus during this period.
The event is open to the public daily between 10:00 am to 8:00 pm.
香港知專設計學院(HKDI)及香港專業教育學院(IVE)李惠利於2021年6月10日至20日舉行年度設計展 Emerging Design Talents 2021: Design for Humanity。今年的年度設計展主題為「設計以人為本」,闡述設計和其他學科如何融入人類和環境元素,解決我們日常所面對的問題,並為大家帶來正能量和歡樂。年度設計展包括作品展覽及各項表演活動, 為我們的年輕設計師提供一個平台展示他們的創新思維和創意。
公眾人士可於早上十時至晚上八時到場參觀。
Special Precautionary Measures
The hygiene of the facilities will be strengthened. Regular disinfection of toilets, lifts, escalators, railings, buttons, and all public areas of the campus will be arranged. Sanitising mats and alcohol hand sanitisers will be provided.
A health declaration form must be completed and submitted at the entrance.
Visitors are subject to a temperature check before admission. Visitors with fever symptoms will not be admitted.
Use our free hand sanitiser before admission, wash your hands frequently, and avoid touching your face.
Staff and visitors will need to wear their own masks in the campus.
Enjoy the exhibition and maintain social distancing throughout the campus.
Children aged under 12 must be accompanied by an adult.
HKDI & IVE(Lee Wai Lee) will review the situation and adjust relevant preventive measures as and when necessary. For more information, please visit https://www.hkdi.edu.hk/EDT2021.
入場注意事項
我們將加強學院設施清潔,並為洗手間、升降機、扶手電梯、樓梯扶手、按鍵及公用區域作定時消毒,學院入口將提供消毒地墊及酒精搓手液。
進入本校人士須填寫健康申報表 。
進入本校人士須接受體溫測量,若有發燒徵狀,請勿進入。
進入本校人士須使用酒精搓手液。常洗手,避免觸摸面部。
進入本校人士須佩戴自備口罩。
欣賞展覽同時請保持社交距離。
十二歲以下之小童須 由成人陪同入場。
HKDI & IVE(Lee Wai Lee)會檢視情況,需要時將調整有關預防措施。如欲了解更多,請瀏覽https://www.hkdi.edu.hk/EDT2021。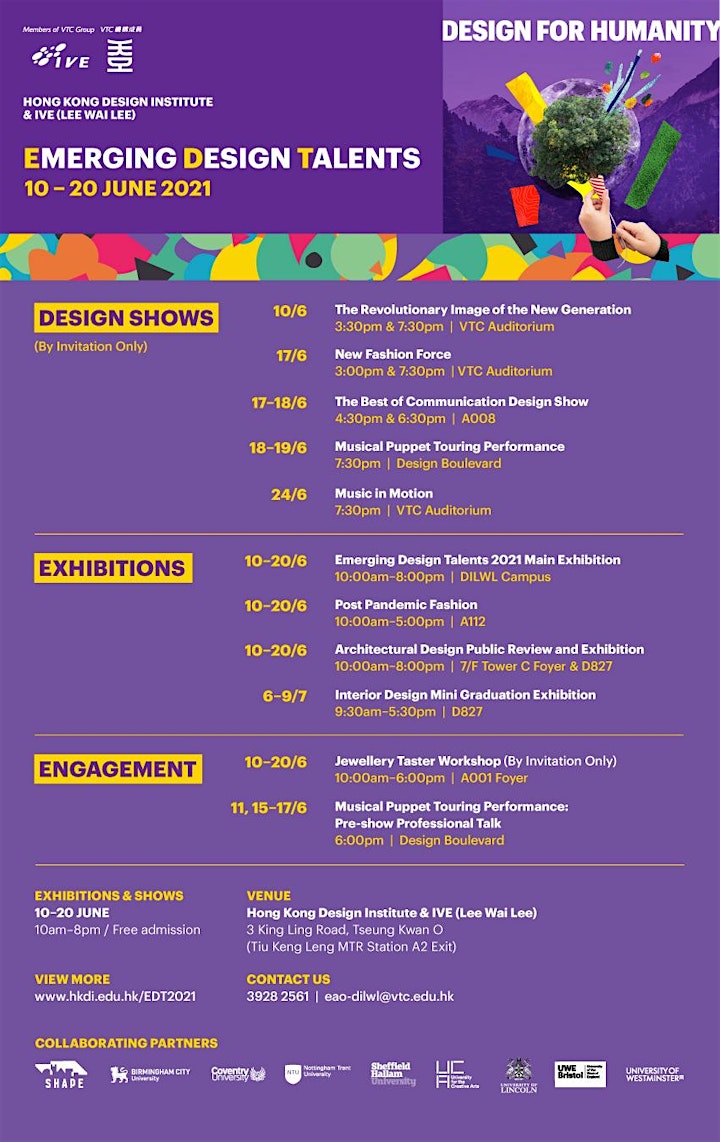 Organiser of Emerging Design Talents 2021: Design for Humanity
The Hong Kong Design Institute (HKDI) is a leading design institution under the VTC Group. It provides high-quality education to cultivate knowledge and professionalism, and produces emerging talents who underpin the creative industries in Hong Kong.
With years of experience in design education, HKDI brings together the strengths of design departments – Architecture, Interior and Product Design, Communication Design, Digital Media, Design Foundation Studies and Fashion and Image Design – to offer over 20 design programmes. Highly flexible in articulation and advanced education, HKDI offer students a three-year university degree pathway from a Higher Diploma to Bachelor degrees offered by reputable universities in the UK.
HKDI adopts a "think-and-do" approach through its contemporary curriculum and active collaborations with local and international academic and industry partners. Students are given opportunities to acquire hands-on experience and participate in global exchange programmes to expand their horizons while enhancing their creative thinking and social sensitivity.
Website: www.hkdi.edu.hk