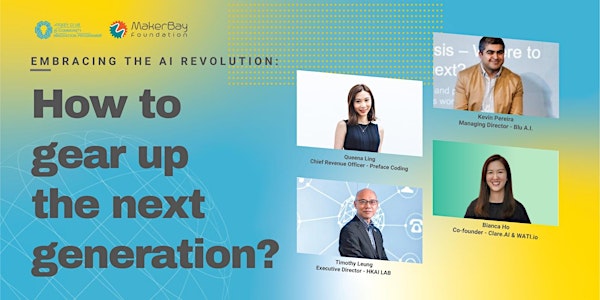 Embracing the AI Revolution: How to gear up the next generation?
AI panel discussion to gather and inspire the AI community. It will be an inspirational discussion on the future of AI talent development.
About this event
Over the past decade, Artificial Intelligence (AI) has become an integral part of our lives and is bringing significant changes to the world. It has been creeping into every aspect of life with more and more widespread applications, such as self-driving cars and smart homes. AI literacy, as a result, is undoubtedly something important and essential for the next generation to thrive in the new digital age.
In this webinar, 4 speakers from the AI community will exchange ideas on embracing the AI revolution and ways to leaverage AI. You may also join breakout groups to have in-depth discussions with the speakers.
Event details
Date: 7 March 2022 (MON)
Time: 6pm - 8pm
Format: Online
Language: English
Enquiry: Please contact Mr Cyron Chan at cyron@makerbay.org
Rundown
6pm Gather & Networking
6:15pm Panel Discussion
7:15pm Q&A Session
7:30pm Chat with the speaker directly in a small group
8pm End of Event
Speakers
Mr. Timothy Leung - In the years as the Executive Director of the HKAI Lab, Timothy has supported and coached many startups in the journey to become a successful business, including areas in fundraising, product and business development, and team management. He leveraged his own experience as a startup co-founder and network in the startup ecosystem. Timothy has accumulated over 20 years of experience in the Information and Internet field. He worked in esteemed companies such as Alibaba, Apple, and PCCW. He is now the Executive Director of the HKAI LAB, which is a not-for-profit initiative fully funded by the Alibaba Hong Kong Entrepreneurs Fund and SenseTime focused on advancing the frontiers of AI with cutting-edge technologies and expertise, and empowering startups to commercialize their new inventions.
Timothy is strong at business strategic planning and implementation. He had managed direct sales teams and channel partners for technology products and internet services, such a background equipped him with comprehensive experience in sales, marketing, product development and senior management. He had many successes in government and private sector partnership development and management.
Timothy's 20+ years' experience in the technology field covering Asia, Europe, and Americas. He directly managed staff and partners in Japan, Korea, India, Malaysia, Singapore, Indonesia, Vietnam, Turkey, USA, UK, Italy, Brazil and Peru.
Ms. Queena Ling is the Chief Revenue Officer at Preface Coding, an A.I.-powered EdTech company that provides personalised education in a decentralised classroom delivery model. Under her leadership, Preface sees 500% YoY growth in revenue, and expand to global operations, including Tokyo and London. She's also an MIT certificated programming instructor and corporate trainer, with her work repeatedly published on both MIT blogs and newspaper columns.
This will be a private event that is only open to educators, industry professionals and NGO management. The topic will be about how we can grow AI with the next generation. It is our great pleasure to have well-known industry professionals to speak at the panel and share their insights on the topic with us. Attendees will gain valuable insights on AI education and the industry outlook through this event.
Mr. Kevin Pereira is currently the Managing Director for Blu Artificial Intelligence, a consulting firm that specializes in Artificial Intelligence (AI), based in Hong Kong. Kevin has worked on consulting projects and is a major contributor to BLU's knowledge base of AI applications in various industries. He is passionate about AI's impact on society, including skillsets and job markets for the future, and also the ethical considerations involved with AI.
To this end, he has collaborated on articles and podcasts, and also spoken at numerous events and panels which have focused on the aforementioned topics. In addition, he has also delivered numerous AI workshops to members of innovation and strategy teams from a myriad of industries in multiple locations around the world.
He is also a part-time lecturer at HKU (University of Hong Kong) and HKUST (The HK University of Science and Technology) along with a number of other schools both in Hong Kong and the Asia-Pac region. His courses focus on Artificial Intelligence, Big Data, and their applications in business.
Ms.Bianca Ho - She is the co-founder and COO of Clare.AI and WATI.io, a Sequoia-backed company. Our mission is to help entrepreneurs grow companies smarter. WATI helps companies have personalized conversations with customers at scale with a customer engagement tool that's built on WhatApp's API. Clare.AI builds industry-specific conversational digital assistants that understand Asian languages across multiple platforms. She was formerly business development manager of Zendesk, responsible for their expansion into China market.
She started her career in JP Morgan Private Banking serving the ultra-high net worth clients in Hong Kong. She was the first-ever youth representative in the United Nations IGF's Multistakeholder Advisory Group.
About Jockey Club AI Community Innovation Programme
Funded by the Hong Kong Jockey Club Charities Trust, the Jockey Club AI Community Innovation Programme is a 2.5-year hands-on education programme for the underserved youth, bringing together participants from schools, communities, and the industry to learn, play and solve real-world problems with artificial intelligence (AI). We offer a variety of activities, including workshops, seminars and competitions.
(Website: https://makerbay.net/zh/jc-ai-community/ )
See how you can meet other participants and the speakers at tables!